We are moving to a place in our homeschooling where I want to introduce more things that don't look like "school"--but still count as school for us check-off-the-box types.
The fun treasure hunts we got to review from
Clued In Kids
worked for both of those things! Clued In Kids works to make entertaining and enjoyable treasure and scavenger hunts for kiddos (and, yes, there is a difference), that teach academics through fun and adventure.
There is a large selection of treasure hunts that Clued In Kids offers, from seasonal hunts to birthday party hunts to even Gluten Free Hunts or Happy Tummy Hunts for kids with food allergies. We chose to receive the
Soccer Treasure Hunt
(big surprise, if you know my kiddos) ($5.99), and the
Halloween Printable Treasure Hunt
(also $5.99). Both of these hunts can be used with kiddos as young as four, but truthfully, were perfectly suited for my seven and eleven year-olds.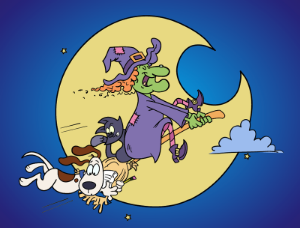 Both of the hunts that we received were received as printable PDF files that were easily opened and printed out, although some come in a printed greeting card form, or even in a treasure box with treasure included! Both the Soccer Hunt and the Halloween Hunt were in the same format: twelve clues, printed out two to a page, with instructions and an answer key.
The first clue is one that you hand to your children. Each of the others are hidden in a location that the clue before leads the child to--and they are pretty generic locations, such as the dishwasher or napkins. At the bottom of the clue is a description of where to hide it, making it incredibly easy for us Mommas to set up the hunt. We didn't have to adapt any of the locations, although there are instructions included if you need to.
The clues themselves are clever, running the gamut of academics from unscrambling words, telling time, solving riddles, finding hidden pictures, multiplying and dividing, or completing a physical activity.
This one involved folding the paper the way the instructions described to find the next hidden clue. In this case, it was hidden under a bed. But which one?
Both of these hunts were set up in less than ten minutes, and kept my kiddos busy for a good hour! The "treasure" found at the end is up to you, and truthfully, the first hunt we did had me forgetting about the treasure! I was able to jump ahead of them and put a treasure together for them to find. Oops!
Dollar bills and Milk Duds. Can there be anything better?
What Did I Think?
I have always been a fan of scavenger hunts, treasure hunts, and other fun "adventure" games. However, what I haven't been a fan of--like ever--is putting those things together. I think I am lacking a very important creative gene.
Clued In Kids has taken care of that for me. All I had to do was download the hunt I wanted, print it out, hide the clues where I was told, and provide the "treasure". Inexpensive to buy, easy to set up, and really exciting and engaging for the kiddos.
Win, Win!
Now, was it educational? Well, there were math problems in each hunt. Easier ones that my second grader could do, and harder ones more appropriate for my sixth grader. (There is a suggestion that when setting up the puzzle the parent write the name of the child who should solve it on the top of each clue, in order to have them age / level appropriate. My kiddos just worked through the questions together.) There were questions specific to the theme of the hunt that needed to be answered, like World Cup Soccer information or "who owns a black cat?" There were riddles and word games. There were opportunities when my kiddos had to work together, follow directions, and problem solve.
Sounds like school to me.
What Did My Kiddos Think?
"I thought it was fun. Some of the riddles were tricky to figure out and some were easy. It was a way I would want to spend my morning again, because it was a new, interesting activity that I hadn't done before. If I had the choice to do it again, I definitely would." (Firefly, age 11)
"I really liked it. I liked that it was fun looking for the clues. My favorite part was the end because I got to eat the Milk Duds and get the dollar bill." (Bug, age 7)
Find Out More About Clued In Kids
Watch a video
of how the Treasure Hunts work.
Find Clued In Kids on
Facebook
Find Clued In Kids on
Pinterest
My Crew-Mates reviewed many other Treasure Hunts. Make sure to see what they thought...