I am a planner junkie. I mean it. I seriously think I have a problem. My Type-A personality makes me go a little crazy when I get my hands on a new, blank, free to be filled up and crossed out planner.
So imagine my excitement when I was asked to review
The 7 Minute Life Daily Planner
($24.95), made by
The 7 Minute Life
! The 7 Minute Life is all about time management, organization, and increasing productivity, and their daily planner is a main tool to help moms with these skills.
Sound like anything you homeschool Mommas could use?
Yeah, me neither.
*wink*
Let me tell you a little bit about The 7 Minute Life Daily Planner, and how it's different from other planners I've seen and used.
First of all, The 7 Minute Life is a whole strategy. If you spend some time on the website, you will find
videos
that cover a large amount of information about time management, goal setting, and habit training, as well as step-by-step videos that lead you through how to use the planner. Although I found the planner to be relatively user-friendly and open-and-go, the videos that explain the how and the why behind the system were really helpful. I would definitely recommend spending some time looking through them.
However, there is a good deal of information in the planner itself. The first several pages serve as an introduction, explaining how The 7 Minute Life's strategy of Prioritize, Organize, and Simplify can be applied and used in your own life. Each section of the planner is then explained in detail.
The next section of the planner is titled "Prioritize". In this section, we are encouraged to take time to think about and select which values are most important in our lives, through a checklist. After completing the checklist, we are then asked to choose the ten most important values checked off, on the way to completing the next section, "Discovering Your Purpose". Here is where we write our purpose statement, define what we love, and find our "purpose words".
Some other features of the planner include sections to help us define our strengths, our work priorities, our "high value activities", and our reward choices. There is a section to write down our mental clutter in order to clear our minds. We are then encouraged to set 90-day goals, using a goal-setting plan shown in the videos and explained in the introduction to the planner. Personal, work, financial, and life goals are included, with action steps ready to be listed and the outcome identified.
There are several pages where unfinished tasks can be listed, again in order to clear up some "brain space", a list of home repairs that need to be done, a standard grocery list, and a list of Personal and Business Life Connections. Many other features of a planner are included, such as monthly and yearly calendar pages.
Phew. That's all before the planner gets put into daily action!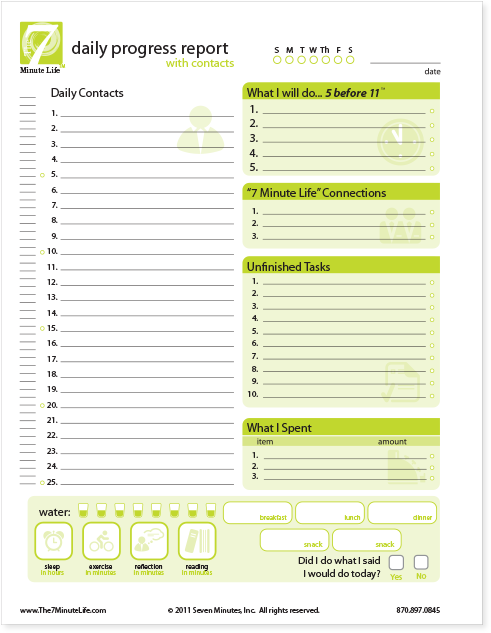 Once we have an idea about our priorities, our goals, and the things that need to be completed, we can move on to our everyday planner use. Each day contains a two-page spread. The sections on those pages are: Daily Contacts, 5 Before 11, "7 Minute Life Connections", Unfinished Tasks, What I Spent, Appointments, Thank You Notes, and Voice Mail, as well as some room for note taking, a section for meal planning, and a spot to check off things like exercise, reflection, and drinking water. The pages aren't dated at all, but are set up for us to date ourselves.
How Did I Use the 7 Minute Life Daily Planner?
Initially, I used it just exactly like it was intended. I watched the videos, read through the introduction of the planner, and worked through my priorities, purpose, and goals. And although I will admit to thinking that the process was going to be a bit cheesy, I really enjoyed it and learned a good deal about myself by spending time working through it. Having my priorities and purpose so clearly listed out helped me to define what was most important for me to do on a daily basis. It also made it easier to make decisions about taking additional tasks on.
My daily use of the planner, though, was probably not exactly what was intended, and I think that is because I am not working outside of the home. There were some sections that were not ones that I needed to keep track of, so I simply relabeled them to fit my life. One of these was the Daily Contacts section. Instead of keeping track of how many new people, or leads, I was talking to, I used this section to write in prayer requests. This way I found that I was keeping people close to my heart throughout the day, and could pray for them regularly.
Another section I changed up a bit was the Voice Mail section. Instead, I used this to list people I needed to talk to--friends I hadn't spent time with lately, or those I needed to catch up with. I tried to list one to two people a day to try to reach out to.
The rest of the page was utilized pretty much like it was set up. First I would list out my appointments for the day (there are lines for each hour of the day from 7 am until 10 pm. I think it would be helpful if they ran the lines in half-hour increments, but I made it work anyway.) After that, I would pick my 5 Before 11, the five most important tasks of the day.
Did I always get them done by 11? Umm, no. We are homeschoolers, after all, and we are homeschoolers that tend to want to do most of our school in the morning. But, this section was very helpful in guiding my afternoon Quiet Time, when I do the bulk of my "Mommy work". Having five main goals listed helped me keep my focus and streamline that time.
The Unfinished Tasks section was where I jotted down all of the things that came up during the day that I knew would have to get on a list somewhere for another day, and the Thank You Notes section was one that I was thrilled to implement. Here I would make sure to list a person or two that I appreciated, and that I needed to make sure to let them know that day how much I appreciated them. Or, I would use that section to list an action we would perform that day to be a blessing to someone else: write to our Compassion child, donate to the Food Pantry, etc.
What Did I Think of the 7 Minute Life Daily Planner?
I really, really liked this planner. It was so very helpful in my life to take the time to sit down, breathe, and figure out what my actual priorities and purpose are. Going back to look at them regularly has just really helped me to stay focused on the big picture.
Daily, I am always using the planner. It is small enough to fit comfortably in my purse, and the spiral-bound pages are book-ended by a thick plastic page to protect the planner. That plastic page has a tendency to "roll" a bit, but it wasn't too bad to deal with. Having a small list of the most important priorities for the day, a place to keep track of meals, a list of appointments, and a reminder of friends who need prayer helps to keep my day on track and keep "first things first".
The planner is set up for 90 days of use, and then a new planner needs to be purchased. I think that re-evaluating goals and plans every ninety days would be a good habit to get into. However, I don't know that I would be able to justify replacing the planner that often. It would be nice if it could work through two ninety-day cycles. That being said, though, I will definitely continue to use it until I've used it up this time around!
Find Out More About The 7 Minute Life Daily Planner:

Also, make sure to read what my Crewmates thought about their time using the planner: