I have posted in the past about planners that I have found very useful in organizing my homeschool day. Today, I want to tell you about a product that we've been using in an attempt to help my Firefly (6th grade) organize HER homeschool day...
My Student Logbook
.
My Student Logbook
offers a variety of planner choices for students, second grade and up. For our family, we received the logbook with the Rainforest cover and dated pages ($15.00).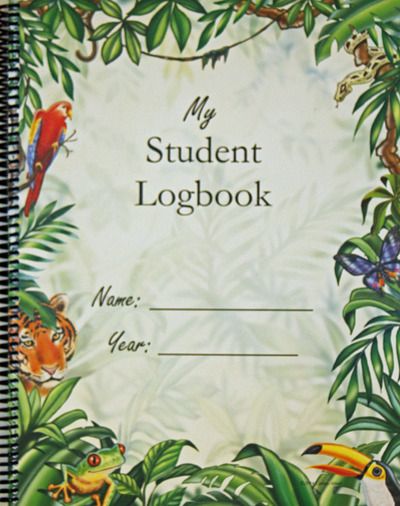 \
What Is My Student Logbook?
My Student Logbook is an 8.5 x 11 inch spiral-bound notebook. It has plastic protective covers on the front and back, and the cover comes in one of several different designs. The first few pages of the logbook help to introduce and explain how to use the logbook and how to set it up, as well as a brief introduction on keeping and creating high school transcripts. After that, in our dated version (there is also an undated version), there are pages for dates 7/28/14 through 8/2/15.
The Logbook
also contains pages
for the student to record "All About Me", "Prayers and Goals", "Bible Verses Memorized", "Books Read", "Events, Projects, Field Trips, Presentations, and Activities", "Test Records", and "Year Highlights".
An interesting thing about My Student Logbook is its setup. I will admit to being thoroughly confused initially, just from reading the directions. However, there is a handy-dandy little
video
that worked beautifully for me in figuring out exactly what I was doing. I am ashamed to admit that the video was a must-have for me!
How Did We Use My Student Logbook?
After struggling a bit with the setup, I quickly sat down to list my daughter's subjects along the left-hand side of the page.
There was plenty of room for me to list all of our subjects--even the ones we only did once or twice a week. And there are several subject sheets, so while I didn't need to change mine at all, they can be changed out in order to make a more accurate picture of what subjects you are working on.
Each morning, before we started school, I would highlight the subjects that needed to be completed that day. As Firefly completed the subject, she would check it off, cross it out (if we didn't get to it), or keep track of the time it took her.
**A side note about the time here. As soon as we got My Student Logbook, Firefly decided she wanted to make herself a schedule. I, of course, being the Type-A, obsessive Momma that I am, thought that this was a wonderful idea! Firefly's first step in this was to determine exactly how long she was working in each subject. Hence, we timed everything. Obsessively. For four weeks.
Ugh.
BUT--today we have followed a schedule for the very first time all year--which was possible and realistic to set up due to knowing "about" how long each subject will take.**
What Did I Think of My Student Logbook?
Again, I am an organizer at heart. I typically love all things planning! So I absolutely loved the concept of My Student Logbook, especially as one of my goals for Firefly this year is to become more independent in her schoolwork. This definitely seemed to help. I noticed that although I still (after four weeks) had to go through every day and highlight what would be worked on, Firefly could take some ownership and quickly look at her logbook to see what still needed to be completed.
Now, because my Firefly has some special needs, we work hard on checklists and organization at our home. So, although the logbook could tell her that she still needed to work on History, for example, she still needed to check her more detailed list to tell her exactly what she needed to do that day for History. I wasn't able to get that detailed with My Student Logbook.
Overall, though, it was a great tool to help her feel more confident and more independent in her school day. To me, that's worth a small bit of leg work on my end. I definitely think that most kids could be more independent in keeping their logbook than Firefly was.
What Did Firefly Think of My Student Logbook?
"It was very handy. I thought that it was very helpful when we tried to do my schedule. I liked it. It helped me feel more organized. I want to keep using it." (Firefly, age 11)
Find Out More About My Student Logbook:
Take a peek at what my Crewmates thought as well: