I've never imagined that the English language could be construed as logical in any way. I mean, how can the same letter be pronounced in four different ways and
that
be considered logical? Turns out, though,
Logic of English
believes that the English language IS logical--that through the systematic study of sounds, word roots, grammar rules, and other tools, students can learn to read, write, spell, and bring order to English. Intriguing idea, no?
One of the tools that Logic of English uses to study this is the
Essentials: Logic of English complete set.
What is Logic of English?
The Logic of English company has a goal of improving literacy worldwide, and they approach this in a manner unlike what I have been familiar with before. They use a multi sensory approach to teaching the 74 basic phonograms and 30 spelling rules that explain 98% of English words. They have a number of programs that work to teach English to all students, from age 4 all the way through adulthood.



What Did We Receive?
We chose to review the
Essentials: Logic of English complete set
($243), which includes:
--The Logic of English Teacher's Manual
--The Logic of English Manuscript Workbook
--The Logic of English Phonogram and Spelling Game Book
--Spelling Journal
--Basic Phonogram Flash Cards
--Spelling Rule Flash Cards
--Grammar Rule Flash Cards
--Advanced Phonogram Flash Cards
--Game Cards
--The Logic of English Phonogram and Spelling Rule Quick Reference Chart
The Logic of English Essentials program is for ages seven to adult, and I used this program primarily with my Bug, who is seven and an excellent reader, but not so much an excellent writer or speller.
The Teacher's Manual is a 537 page, hard-cover, thorough walk through the Logic of English Essentials program. It begins with the scope and sequence of all forty lessons, a brief introduction to the program, and then sample schedules for using the program with different types of learners: struggling readers and spellers, struggling spellers, emerging readers and spellers, young emerging readers, and ESL students. There is then a large section entitled, "Before You Begin", which breaks down into detail the importance of phonemic awareness, how to put words together and break them apart, teaching sounds and letters, and teaching cursive vs. manuscript.
After this, the lessons begin.
Each lesson has three parts:
phonograms, spelling, and grammar, but then each part is further broken down. For example, in one typical lesson, the phonograms "ai", "ay", "oi", and "oy" are taught. The sounds are taught and then there are several ways to review the phonograms--through games, practice, activities, or recitation of rules. Many of the activities are suggested to appeal to visual, auditory, and kinesthetic learners. Older phonograms are reviewed as well throughout the lessons.
Farther on in this lesson, part two presents a spelling list based on the phonograms that have been taught so far. There are specific ways that the program would have you dictate and present the spelling words. Part three then deals with grammar, in this case, article adjectives. The earlier grammar concepts are reviewed and the new one is introduced, again with many different activities that can be used with the student to reinforce the teaching. Additional grammar concepts that are taught in this lesson include identifying nouns and adjectives and the introduction of suffixes. There is also a very brief composition (writing) exercise at the end of the lesson. Additionally, sometimes dictation and vocabulary exercises are in part three as well.
Every fifth lesson contains an assessment and review lesson.
The Logic of English Manuscript Workbook is a softcover, consumable workbook that corresponds to the Logic of English Essentials lessons. Each page is perforated and very simply printed in black and white print. There is plenty of room for the child to write, even for a struggling writer like my Bug. The workbook contains 480 pages and works through all forty lessons.
The Game Book offers instructions to play over 75 games to help practice and learn phonograms and spelling words. It also contains templates you may need for the games, like BINGO cards, or Tic-Tac-Toe boards. The Spelling Journal is also a softcover book, organized by sounds and spellings. It is a journal the child can keep to help organize more difficult words. The flashcards are all heavy card stock and large cards, much sturdier and larger than we were used to. The game cards are also sturdy, although fairly small--so that we could hold them in our hands to play.
We also received the
Phonics with Phonograms
app for iPad to review. The app is available in the iTunes store, and is currently $2.99. It is suggested for ages four through adult.
How Did We Use This?
First of all, I'm going to tell you how the schedule laid out in the Teacher's Manual suggested that we use this. I have a seven year-old reader, so their suggestion was to teach one lesson per week, spending 30-60 minutes / day on the lessons, making it possible to complete the program in 40 weeks. Their suggested schedule was further broken down into ideas on which parts to teach each day, complete with game suggestions.
Here's how we used it. We used Logic of English Essentials every school day--approximately four days / week. However, we moved at a much slower pace than what was suggested, as my son doesn't do well sitting for anything for 60 minutes at a time. Also, the classical style of teaching in Logic of English was new to Bug, so there was definitely a learning curve for him.
However, each day we worked for about 20-30 minutes. In that time, I would introduce a new concept, phonogram, or rule--if there was not a new one that day, we would review ones we had already learned. Each day we would do some type of workbook exercise to reinforce the concepts, phonograms, or rules Bug was learning to memorize. And each day we had to play a game.
The games were a really, really big hit at our house.
As in, if I didn't think we had time to play a game, there were tears. Sometimes a lot of tears.
What Did I Think?
I was initially overwhelmed at the sheer volume of what came in the box. As I pulled book after book out, my mind was racing. And, I'm not going to lie--reading through the beginning of the Teacher's Manual helped my racing mind to just continue to speed up!

There's a ton of information in there, people.

But it's great information--worthwhile information, and information that helped me to understand why this method of teaching my son made sense. And as I went back and read it again, it seemed a bit less scary and a bit more do-able.

Once we started using the program, I got very comfortable with it almost immediately. The Teacher's Manual has a script, which always makes me happy and works well with my comfort level. That helped make Logic of English an open-and-go curriculum in my home. Each day, I could open the manual, read the script, review some flashcards with Bug, instruct him on what to do in the workbook, and play a game--which there were also instructions for!

So I enjoyed this program and felt that what it taught was very relevant. Did it teach?

Yep, it did in our home.

And it taught things that I would not have 1) thought about teaching Bug, or 2) expected him to be able to learn. This is a child who doesn't like to write and just barely is able to spell, and he was able to write dictated phrases like "three clocks" correctly by the end of Lesson Three. He could tell me the rule about using "ck" (only right after a short vowel), and he knows what a noun and an adjective are. We've talked about how to make nouns plural--and he knows what that means.

I loved the Teacher's Manual. It was complete and easy to use--and, did I mention it was scripted? The workbook was simple, and the exercises in it were easy for my son to complete correctly. I liked being able to tear out the completed pages to use in our portfolio when he was done. The flashcards were a big part of the curriculum, and once I found an effective way to store them, we used them everyday with no sign of them tearing apart.

The games, though, were a wonderful addition to Essentials, and really reinforced the lessons Bug was learning. And they made it much more fun, which becomes a win-win situation in this Momma's eyes.

Overall, I was very impressed with the user-friendliness and the effectiveness of this program. We will continue to use it until we work through it all.

One caveat, though. This is a teacher-intensive program, and not one that you can put on the list for your child to work on independently. For almost every lesson and learning time that we had, I was right there with Bug, guiding him through it. You may want to keep that in mind when selecting it for your family.

(**Side note here: although I got this program to use with Bug, I pulled my Firefly--age 11--in for several of the lessons, mostly the grammar ones. She has come a long way recently with her spelling, but we've never really hit grammar very hard. This program was an excellent refresher course for her in these early lessons, and looking ahead, I am sure we will get to new information for her very quickly. She was always eager to "review", and now she has also memorized some very important grammar rules that she wasn't really aware of before.**)
What Did My Kiddos Think?
"I liked it, but I used to not. But then I liked the first game. Then the next ones came and basically that's why I do it. It's helping me learn what sounds that the letters make so I'm getting better at reading, and I like how the games include the letters. Sometimes it gets on my nerves because the things stress me out, like the spelling. My favorite part are the games." (Bug, age 7)
"I thought it gave good review of the things I've already learned and help me learn more about them. It got me better at learning what adjectives are, and some of the examples of them. It was sometimes hard to memorize the cards and the stuff on the cards, but other than that, it was good." (Firefly, age 11)
But What About the App?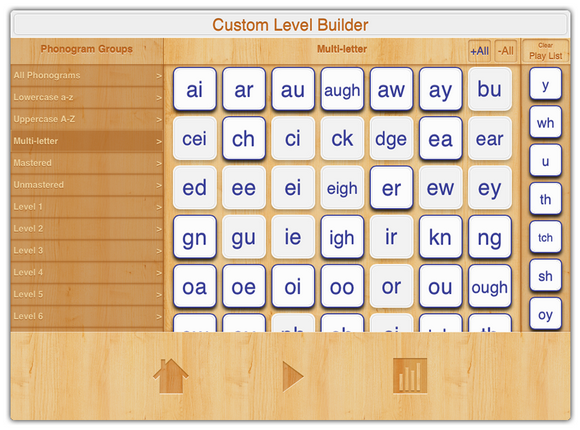 The Phonics with Phonograms app provided another fun way for Bug to practice and reinforce what he was learning in the Essentials program. It was a bit confusing at first when we were trying to figure out how to set it up, but I am not a big techy guru and I was able to get it set up pretty quickly. It is essentially a matching game, where the student has to find the correct phonogram that is being said, and it tracks your child's answers and progress.
I was pleased to see that you could set levels for your child, and I tried to keep him at the level he was learning. That way, he didn't get inundated with "a", but could work on "ea" and "ck", and some of the newer sounds.
I liked the concept of this app, but I didn't feel like it was truly necessary for us with all of the other pieces of the program that we were using. I think that if Bug were more at the beginning of learning all of his phonograms, that it would have been more helpful. He played it a few times, but it was not one of his favorite activities--not like those card games, for sure!