Apologia Educational Ministries
is a very well-known name in homeschooling circles--and a very well-known name in our own homeschool. We have used a number of their science products over the years and are big fans. So when we were offered a chance to review a product from their worldview line, "
What on Earth Can I Do?
", we were thrilled!
What Is Worldview and Why Is It Important?
It's only over the past few years that I've heard about worldview, and how important it is to recognize and understand someone's worldview. If you are a newbie to all of this, like me, worldview essentially is how we view the world based on what we believe to be true. In discovering our own worldview, we need to ask ourselves: how do we know what is true?, and how must we then live our lives in relation to the truth we have come to know?
In our home, our worldview mirrors that of Apologia's: that the Bible is true, and that we will use God's Word as a lens through which we should view the world around us. This Biblical Christian worldview is what Apologia's
What We Believe series
is based upon.
What Is What On Earth Can I Do?
This volume is the fourth in the What We Believe series, which includes Who Is God?, Who Am I?, and Who Is My Neighbor? This volume focuses on how to be a good and faithful servant of God. It is to be used as a family-inclusive study, most appropriate for children in first through sixth grade, although we used it for older children as well.
What Did We Receive?
For this review, we were blessed to receive the entire set of the curriculum:
The hardback book, or textbook, such as it is, is a 294-page, beautifully illustrated book that contains the lessons and reading. There are eight lessons contained in the text: Your Story or God's Story?, Who Put You in Charge?, Will You be Found Faithful?, Where is Your Treasure?, Where Does Your Time Go?, Whose Life is it Anyway?, Why Isn't It Easy Being Green?, and What Will Happen When the Master Returns? Each lesson follows the same format. Lessons begin with the Big Idea and What You Will Do--the main idea and objectives of the upcoming lesson. After those sections, there is a "Short Story", which is not usually very short. The story continues throughout each lesson and shows the Christian worldview in action. Over the course of this volume, the main storyline centers around a family in Britain during World War Two.
Other sections in the lessons include discussion questions, vocabulary words, memory verses, integrated learning boxes, which include additional information about the time period or historical figures being studied that help with understanding, prayer, and a section entitled "Parables of Jesus". These parables are parables that Jesus told, but they have been expanded with historically accurate details to help today's children relate to them.

The Notebooking Journal is a soft-back, spiral bound book. It contains activities and note-taking pages that help the student cement the concepts learned in the text. Some of the activities in the Notebooking Journal are things like discussion questions about the short stories, words to know, word searches, mini-books, copy work of the memory verses, and crossword puzzles. The Notebooking Journal is recommended for ages 10 and up.

The Junior Notebooking Journal, however, is recommended for ages 6-9. It is also a soft, spiral bound notebook that has activities to go along with the text. Some of the main differences between the Notebooking Journal and the Junior Notebooking Journal stem from the amount of writing. For example, vocabulary is covered in the Notebooking Journal by having the child write out the definition for the vocabulary word. In the Junior Notebooking Journal, the child simply fills in the vocabulary word in an appropriate sentence. Also, the Junior Notebooking Journal contains coloring pages, larger lines for copy work, and simpler word searches and crossword puzzles.

The Coloring Book is a 64-page softcover book that has fun, simple pictures that correlate to the stories and lessons in the text.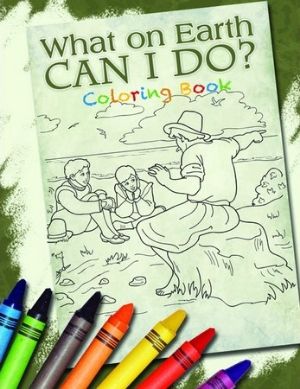 How Did We Use This?
I'm going to start out by saying that although both the text and the notebooking journals contain suggested lesson plans, we did not follow these. The text contains suggestions to finish a lesson in three weeks, working in the book twice a week. The notebooking journals show one lesson every two weeks, working three times / week.
We used this curriculum about three times a week, together as a family. Typically, I would do the reading aloud while my first grader colored a corresponding page in the coloring book, my fifth grader colored in the junior note booking journal, and my eighth grader simply listened. I would usually read for fifteen to twenty minutes, or until there was a break point in the text. We would discuss what we had read, and then do any note booking activities that corresponded with what we had covered. For the most part, I had my oldest working in the notebooking journal and my younger two working with the Junior Journal and coloring book.
We made it through almost three lessons in our five-week review period, but could have easily moved faster if we weren't following our rabbit trails, which I will tell you about in a minute...
What Did I Think?
Wow. I loved this curriculum!

First of all, both myself and my children were always eager to sit down and begin our days with this. The readings held our interest, and often led to further discussion and research on things we read about. The World War Two storyline was fascinating to all of us, and we often rabbit-trailed to find more out about, for example, Corrie Ten Boom, or Adolf Hitler and his tactics. This in turn, led to very worthwhile discussions and conversations about good and evil, about using what we have to make the world better for others, about making choices God would be proud of, etc.
I think that was kind of the point of the curriculum, right?
For the purpose of this review, we used the notebooking journals regularly. We were familiar with using notebooks due to our use of Apologia's other products, and this curriculum was no different in the activities and value of the notebooks. However, in this case, I felt like we were getting more out of our reading and discussions than the notebook activities, and we may not continue to use the notebooks from this point on.

The coloring book, however, was a great resource for us. My youngest would color the pictures in it as we were reading, helping him to "try to" stay quiet, and then giving him an opportunity to review what we had already read about by looking back at the pictures he had done.
What Did They Think?
"I really liked it! I liked how I could see how they taught stuff about the war and how they built the shelter. I learned how they disguised the shelter. There was not anything I didn't like about it." (Bug, age seven)
"I thought it was very interesting, because it told a lot about stuff that caught my interest. I learned a lot of new things about how they did stuff during different times. There was nothing I really disliked about it." ( Firefly, age eleven)
"It was fun and interesting, and I never got bored of it." (Turtle, age fourteen)
Find Out More About Apologia's What On Earth Can I Do?

Many of my Crewmates reviewed this product also. Make sure to head over to see what they had to say...