Every once in a while, we are asked to review an item that, at first glance, doesn't seem to mesh well with what we are learning at home. When we were first chosen to receive the Teacher Edition and Student Workbook from the Victus Study Skills System, I was initially less than enthusiastic about it.
After all, we are homeschoolers. Isn't part of the deal that we learn somewhat less traditionally than those in public schools? Aren't study skills just for those standardized-testing public schoolers?
I will freely admit it here. I was so very wrong about this system, and we were so very blessed to be chosen for this review.
Let me tell you why...
What is the Victus Study Skills System?
The Victus Study Skills System is a systems approach to studying, based on the idea that learning to study, and learning how to learn is a way of life ("victus", in Latin). As our children get older, there may be times when we are expecting them to go and "study", or go and "learn from that book", without much direction on what that actually means or looks like. I think that homeschoolers may be especially prone to that--I know that I am. Coming from a public school background, I have studied for many tests over the years, but my children NEVER have.
They won't know what it means to be able to do it effectively--unless I teach them.
Going along with the idea that learning to study is a way of life, the Victus Study Skills System addresses things like:
--organization and time management
--motivation and goal setting
--note taking and test taking
--reading with better comprehension and efficiency
These skills are taught to students within the framework of self-assessments to find where the student is now in their habits, helping them to identify where they want to be, and determining the best way to get from where they are to where they want to be.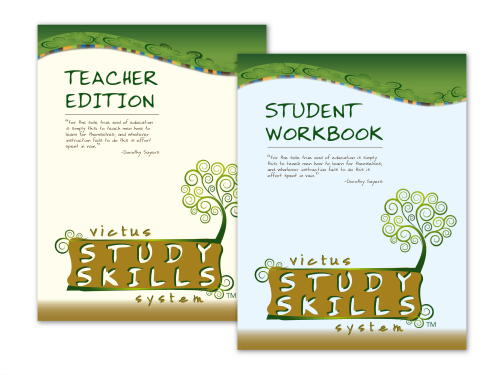 What Did We Receive?
We received one copy of both the Teacher Edition ($40) and the Student Workbook ($20) to use in our homeschool. Although there is information on the Victus Study Skills System website about using their materials with children as young as 4, the books are most appropriate for 5th-12th graders.
The Teacher Edition is an 82-page, spiral bound notebook that fully explains the Victus Study Skills System philosophy, foundational cornerstones, and objectives for the course. It gives sample course plans and suggested ways for using the material, and then offers an overview of the ten lessons contained in the course. Each lesson begins with a section for the teacher, covering the purpose of the lesson, any preparation needed for the teacher, and the suggested procedure for teaching the lesson. There are also copies of the student text within the lessons, so that the teacher can make sure they know exactly what their student is seeing in their book.
The Student Workbook is another soft cover, spiral bound notebook that is 65 pages long. It also briefly covers the objectives and idea of the course, but then quickly goes into the material needed for the lessons. The workbook is black and white, and contains fill-in-the-blank answers, checklists, places for drawing notes, and an Appendix of helpful forms, strategies, and flashcards. Here is a sample look at the Table of Contents.
How Did We Use the Victus Study Skills System?
I used this system with my oldest, who is 14 and in 8th grade. We used it together, in short bursts of lesson time, with me preparing ahead of time and teaching the lesson, and my Turtle working through her Student Workbook during the lesson.
The course is an approximately five hour course, and one sample schedule given in the Teacher Edition gives five days to teach the lessons. We went much more slowly, but were able to finish the entire course in a matter of weeks, spending about 15-20 minutes a day working through the books.
What Did I Think?
I was very pleasantly surprised by what both my daughter and myself learned by using the Victus Study Skills System. Although I didn't initially think that it would be a benefit to us, it has definitely become a blessing. And next year, when my daughter goes into public high school, I think it will be an even bigger blessing!
First of all, I thought that the content of the course was relevant, interesting, and important for both of us. The material made a great deal of sense to both of us, and Turtle enjoyed using some of the checklists provided to learn things about herself, like her learning style and her current study habits. What's more, once she discovered those things, she was able to gain skills that helped her to use her learning style and study habits to her advantage. For example, with her being a very visual learner, it is important for her to write things down, several times, when trying to remember them. She also learned fun tips like using sticky notes on her bathroom mirror to help her recall important information.
We both learned why her current preferred method of "studying"--stretched out on her bed--while comfortable, may not be the best choice for retaining information. Too bad for her!
I learned that she thinks it is only necessary to spend one hour in the library to get enough facts for a research paper. And that she believed that she would only need about a day to get said paper written well. Now, Turtle is not only getting ready to go into high school, but she has been accepted into a very rigorous program in that high school. I'm pretty sure she is going to need to spend much more than an hour working on papers.
Thanks to Victus Study Skills System, so does she--now.
As we have been working through the course, Turtle has made some positive changes in her study skills. She has cleaned off her desk, and although she still does do most of her work on her bed, I have seen some evidence of work being completed on that desk. She has perfected a color-coding system while taking notes that she used in studying for her latest Algebra exam. And she has purchased a planner--and written in it in order to keep track of the time she has free to get things done.
There are a few things about the course that were a little difficult to figure out. One of these is the "fill-in-the-blank" pages in the Student Workbook. When we used them, Turtle simply filled in the answers as I dictated them, as I couldn't find another way that was suggested. Because of this, I sometimes felt that she was not quite as engaged and was working simply to complete the page.
Also, I felt that oftentimes in the course, it is directed to a much bigger group than one teacher and one student. That was, however, easy to work around, although there were some "preparation" activities that we chose to skip instead of try to adapt.
There is a bit of preparation time for the teacher that will make the course the most interesting and important. I think it is possible to use the course as pick-up-and-go, but I definitely think that would detract from the overall lessons.
Overall, I felt that this course was very valuable to us, and will only continue to become more valuable as Turtle transitions to other teachers. I hope that she continues to go back to her workbook and the information she gained from the course to best succeed in her schoolwork, and in her life goals as well.
What Did Turtle Think?
"Victus really gave me good ideas on how to study. It helped me a lot...and will help me even more. I enjoy doing the activities, like making a schedule and organizing my days." (Turtle, age 14)
Find Out More About the Victus Study Skills System:
Facebook Page
Twitter
Make sure to look at what my Crewmates thought as well...