Being a part of The Old Schoolhouse Review Crew has been such a blessing to our family over the past few years. We have been able to learn about and use so very many different products and curriculum that we may not otherwise have had the chance to see.
The Home School Adventure Co. has a number of resources available to homeschooling families, in order to equip parents to help raise loving, compassionate, strong, and wise children. The resource that we were able to review was
Philippians in 28 Weeks
.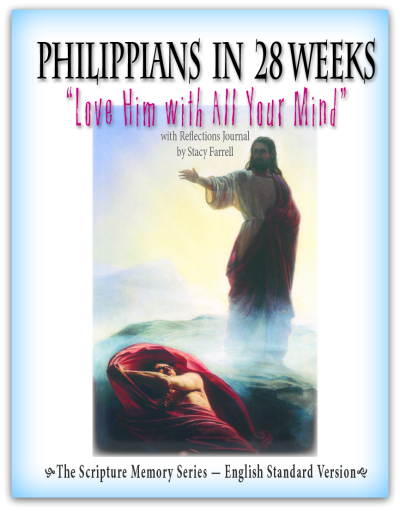 What Did We Receive?
We received the digital copy of Philippians in 28 Weeks, with a Reflection Journal by Stacy Farrell, and we chose to receive the English Standard Version. This product is a 151-page book that includes an introduction, instructions for use, materials needed for all four chapters of the book of Philippians, a tracking log, memory cards, and some information about the author.
Each chapter in Philippians is accompanied by "assignments" on a daily basis, consisting of things like copy work of verses, journal questions, weekly reflections, and recitation charts.
What Is Philippians in 28 Weeks?
And can you really memorize an entire book of the Bible in just 28 weeks?
Well, Ms. Farrell believes that you can, and she has proof of this in her own sons. She has put this book together to help you and I do it as well.
Philippians in 28 weeks can be used with children from age 9 until high school age, and, of course, with adults as well. For ages 9-11, it is recommended to use it as a family read-aloud and discussion, for ages 12+, more as discussion with parental guidance, and for high school age, it can be used independently. Ms. Farrell even gives a breakdown in the book's introduction of how to assign grades to the work, if that is something you are interested in.
The book recommends a five step process in learning to memorize the Book of Philippians:
--Read. First of all, it is recommended to read the entire book each day. By doing that, you are absorbing the information and the words included in the letter. This can be done in less than fifteen minutes a day.
--Record. Here is where you use the journal that is part of the program. Each day, after reading, you have activities to complete: copy work of the verses, questions to answer about the verses, or a summary of what you are learning as you study the verses.
--Repeat. You need to repeat the verses daily. Ms. Farrell kindly includes memory cards in the book, which can be nicely printed off and laminated to keep around the house, or carried with you.
--Review. Practice. Go over and over the verses throughout the day and week.
--Recite. Recite learned verses once a week and test your own retention.
How Did We Use Philippians in 28 Weeks?
At first, my intention was to use this alongside both of my daughters, ages 14 and 11. We have done some memory work in the past, but it's not something we've done a lot of. Both girls were initially on board with the idea and were excited to think of being able to recite an entire book of the Bible.
Until after Day One. When my eleven year-old let me know that she thought she should be a bit older before she tried.
So, from then on, we decided that this was going to be a task that my oldest and I would tackle together. Each day, we took some time to read Philippians in its entirety. It would usually take us 10-15 minutes, and then we would try to work through the "Record" section. For the first two weeks, we attempted to follow the schedule laid out for us in the book: copy work the first day, questions the second, and so on.
And then we discovered that we weren't quite as good at memorizing as we thought we might be. So instead of stressing ourselves completely out and eating, drinking, and dreaming Philippians, we slowed the pace down. To a snail's crawl, really.
We pulled back to continuing to read Philippians each day and journaling when we had something new to master, but really focusing on testing each other and reciting--over and over and over again. Here was where we took advantage of the memory cards, and printed them out to keep around the house.
My favorite place was on the refrigerator. That only gets opened approximately seventy times a day. I began to get into the habit of reciting or testing myself each time I had to open the refrigerator door.
So, it is going to take us longer than 28 weeks. But we're still going to work hard on it.
What Did I Think?
I think that memorizing an entire book of Scripture is a fantastic idea. No one can take out of your head and your heart what you have worked so hard to put in there, and there are no better words to fill your head and heart with than God's.
However, having said that, we seemed to struggle a bit in our home with "teaching an old dog new tricks". My memory is certainly not as strong as it used to be--as for my 14 year-old, I'm not sure what her excuse should be!
Reading the Scripture daily was a wonderful idea, and both of us enjoyed that time. We were able to discuss the passages and get the meanings and messages out of the Scripture, and both of us found ourselves reciting some of the verses aloud from later passages, just from hearing them so often.
And we worked hard on the memorizing part--really, we did. And both of us have beginning passages memorized, but not nearly as much as we should have according to Ms. Farrell's lesson plan.
Are we proud of ourselves for what we have learned? Absolutely!
Are we better for having read and learned from the Book of Philippians so many times? No doubt.
Will we continue to plod through the plan to meet our goal? I think we will.
Will it take only 28 weeks? Surely not.
What Did Turtle Think?
"I liked it, for the most part. I didn't like reading it every day, but I did like the idea of it. The memorizing was hard. I wish they had more background information in the book--I wanted to know about who Paul was writing to. It would be better if they included more of that history. I also wish that maybe we just read Chapter One each day until we mastered that, and then added the next parts. That might have been easier." (Turtle, age 14)
Again, we supplemented with a study Bible to get the information that Turtle was looking for, and talked through the verses she didn't quite understand, and I really think that was an important part of the process.
Find Out More About The Home School Adventure Company Here
Philippians in 28 Weeks is also available in a print version ($28.95) for either the English Standard Version or the King James Version of the Bible. Currently the digital version comes only for the English Standard translation, but it is $14.95, and you can get a set of the memory cards only for the ESV for $9.95.
You can look at a
sample copy
before you purchase as well, if you want to get a closer look.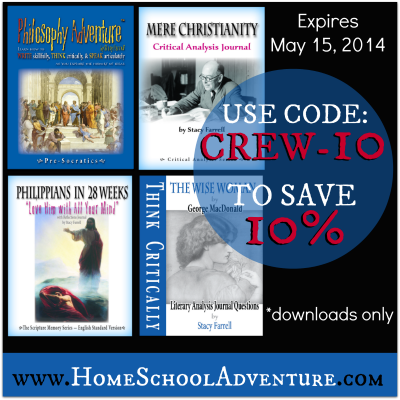 Also, from now until May 15, 2014, Ms. Farrell is offering my readers a 10% discount on all downloadable products from The Home School Adventure Co! All you have to do is use the code: CREW-10!
My Crew-Mates reviewed several other resources from The Home School Adventure Co. Make sure you head over and take a look at everything we got to explore!