"Bonjour! Comment ca-va? Je m'appelle Nicole. Et vous?"
No? How about this one:
"I be Nicole, a swashbuckler. Do you be a landlubber?"
What is Mango Languages?
You may have heard of Mango Languages before. Mango has been in public libraries for several years, but has just begun releasing their homeschool version to the community. Some of the differences in the homeschool version from the previous version include many new levels and new languages, community forums, and "enotes" capability--which works almost like an internal emailing system.
Mango Homeschool Edition is an online program that offers language learning in over sixty languages, including learning English as a second language. The languages are taught conversational-style, with grammatical and cultural notes sprinkled throughout each lesson.
What Did We Receive?
We received a one-year subscription to the Mango Homeschool Edition for up to five "students"--of which I included myself! This is recommended for ages six to adult. The version that we were using and reviewing is considered a "beta" version--it is wonderfully usable; however, there are many more features that will be released in the future that I did not yet have a chance to explore.
Some of these upcoming features include:
--"Conversations", which is an additional part of Mango. This will include additional quizzes and a few more languages. This will also be able to show a student's time / progress in taking the course, as well as all of the student's accomplishments.
--A section for quizzes and tests that will be able to show and allow the student to print out test results, as well as more effective pre-tests in order to place you appropriately in the language lesson.
--Additional tests and quizzes for ALL languages. (Right now, they are only available for some.)
--The ability for parents / educators to create assignments for their students.
Mango Homeschool's ultimate goal is for this product to become an online community for language learning.
Mango works on all operating systems--we used Safari on an iMac and had no issues whatsoever.
How Did We Use This?
Once we received our subscription to Mango Homeschool Edition, I logged in right away to explore the site. I also signed up all three of my children for their own accounts: my first, fifth, and eighth graders.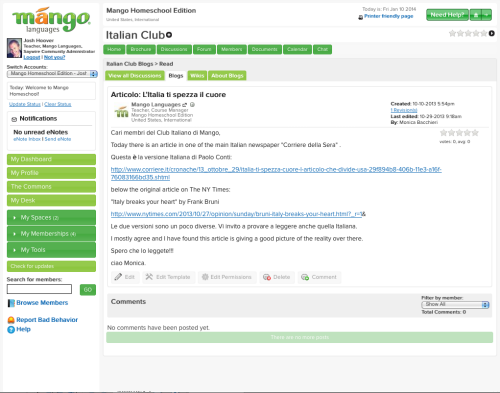 When you first log in, you are brought to your Dashboard, where you can see if you have any "enotes" waiting for you, you can update your profile, upload or create new documents (such as assignment sheets you may create for your own children), or head into "The Commons".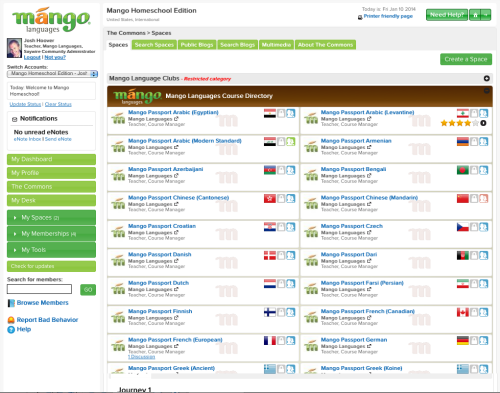 The Commons is where you can go to see all of the language offerings that Mango offers to homeschoolers. Each language you click on shows you what that particular "language journey" offers. For example, for my seven year-old son, who took "Pirate"--yes, that's right--Pirate!, there was only one "journey", or level available of that language. Although there was only one level, he was able to learn hellos and goodbyes, ask about someone else's nationality, introductions, getting around, shopping, payment, dining, currency, and getting help--all while also learning proper grammar (such as it is with pirates, lol!), cultural notes, and using a voice comparison tool to ensure his correct pronunciation. His journey contained five lessons.
For my eleven year-old, on the other hand, who was taking European French, there are three "journeys" before her lessons were considered complete. By the time she is done, she will also be able to discuss things like education, leisure activities, and making plans. Her language contains forty lessons, with a three-part Course Guide that contains hints, pronunciation cues, and vocabulary review.
My older daughter wasn't initially going to use Mango Homeschool Edition at this time. However, once she heard the fun that her brother and sister were having, she asked for help in signing up for Latin American Spanish. She is looking forward to fully using it this summer, before she begins "official" Spanish I in public school this fall. She wants to have a leg up on everyone else, and I think Mango will be perfect for that!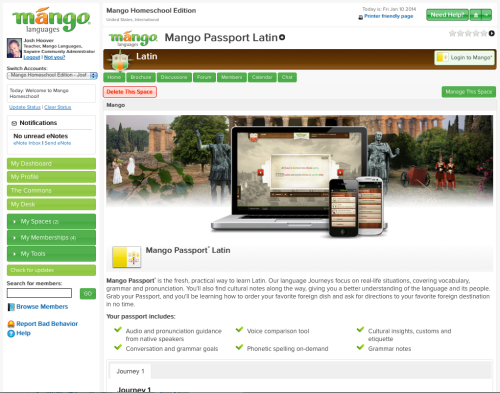 Once you have chosen a language (and one user may take advantage of as many different languages as they wish to), you can begin the lessons. In many of the languages, you are able to take a pretest to help determine where you should start. We did not do that, as my children had not studied either of their languages much at all, so we just started from the beginning.
Mango Languages is a conversational-style language learning program, so in the first lesson, you are right away learning how to try to have simple conversations with native speakers. The chapter begins with a conversation happening both orally and visually on your computer. The conversation is shown in both English and the language you are studying (in the picture below, it is Latin), and there are different speakers speaking each part.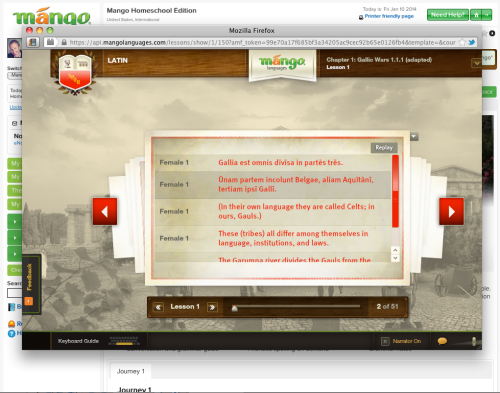 As the lessons in the chapter continue, you are then taught how to have that very conversation yourself.
Mango's lessons look very much like that screen shot above. They are presented in a slide-show like format, with usually just a word or phrase on the screen that you are asked about. There are typically about fifty-ish slides in a lesson, and the lessons typically took us about fifteen minutes. There are, however, a couple of features that seemed to increase our lesson time.
One of the fun things about Mango Languages is their "voice comparison tool". This is when you are able to try your hand at correct pronunciation. As you can see in the photo above, this tool essentially snaps a photo of your voice stresses and compares it to the native speaker's. Both of my kiddos who used this program regularly loved this feature, and tended to use it over and over and over again.
Another feature that was helpful for us in this program was the ability to "add time" when trying to answer a question or come up with the correct vocabulary word. When asked, you are able to either see the answer or add time. Both of my kiddos would immediately add time so that they didn't feel rushed to answer quickly.
My youngest (first grade) used this several days / week when we first received the product. He was thrilled to be learning Pirate, and often asked to complete an extra lesson or two. He drove us all crazy with his continuous practice, and thought it was extremely funny when he could say something to us that we did not understand. Although he is only seven, he was able to use this program independently after the first few sessions. He is, however, a good reader, so I think that was definitely part of it.
Once he graduated from his Pirate journey, he elected to take Russian. We have some Russian speakers in our family, and he wanted to be able to surprise them by being able to talk to them. Very quickly, his enthusiasm dimmed. Russian, evidently, is much harder than Pirate. He hasn't made much progress in that unit.
My middle child (fifth grade) has been consistently using Mango Homeschool Edition three to four times / week, and is doing well with her European French lessons. She can use it independently, but prefers me to sit with her. (Whether that is just for the company, or for the support, since I understand a bit of French, I'm not sure!) She seems to be able to retain the information from lesson to lesson, especially since there seems to be a good deal of repetition and review in each lesson. We do, however, take notes during each lesson, and have (mostly unsuccessfully) used some homemade flashcards for practice. She has taken a few tests as part of her sessions, and has scored well. The tests seem fair and an accurate representation of what she has learned; if she scores incorrectly, however, there is not currently a way for us to track what she did wrong. As I stated before, this is something that should be available within the next month or two from Mango.
At this point, we are only using the actual language learning lesson parts of Mango Homeschool. Although I can log into my parent account and then into my children's accounts to see what they are up to, I prefer just to sit with or near them, or have them come and talk to me when they are finished in order to track their progress.
Because of this, there are a few features available to Mango Homeschool users that we did not take advantage of very often. One was the chatting community. Although the good folks at Mango have worked very hard to make this a safe community, I just didn't feel the need to use the feature, or allow my children to use it to communicate with others taking the courses.
What Did I Think?
Giving my children an opportunity to learn another language is something that is important to me, yet something I have struggled with being able to do myself. Mango Homeschool Edition, for us, is a great tool that helps me to offer this to my kiddos--for not only one foreign language, but for over sixty!
I was very impressed with Mango Homeschool Edition. I am always enthusiastic when we are given a product that my children enjoy using--so much so that they often would ask to do another lesson. But when that enthusiasm is coupled with actual learning that I can see them retain, it is definitely a win-win for me.
I also enjoyed that Mango was so user-friendly. Both of my children were able to log on and begin work independently. The website was fairly easy to navigate, once we had figured out the log in process. There were a few clicks needed to get into the actual lesson, but it was not too difficult.
One thing that I think is worth mentioning is the actual lesson slides themselves. The words on the slides appeared to be color-coded, so that the child could correlate the words in English with the appropriate foreign language counterparts. While neither of my children commented on that, I definitely noticed it, and I think it is a subtle way to help encourage the language learning. Also, hovering over a word or phrase would bring up the option to see the phonetic spelling or to hear the word be spoken. This was a great option for pronunciation practice.
We will continue to use our Mango Homeschool Edition subscription for the rest of the year. I don't know that I would renew the subscription, though, as I feel it is a bit pricey when we are paying per subscription. I like the idea of our whole family currently being able to study, without feeling that I would need to pick and choose which of us would have access based on our homeschooling budget.
I am looking forward to the changes and improvements that Mango is planning to make over the next few months. I think that they will add even more advantages to those of us who are using the program.
What Did My Kids Think?
"I thought that it taught me really quick. It practiced over and over until I practically memorized the word. It had cultural notes that would tell about the country that you were studying about, and it was really fun to learn all these new words that I never really had heard before. I'd like to still do it, and I thought it was really fun. I don't think that I really had any 'downs' about it, because it was really interesting." (Firefly, age 11)
"It's pretty fun, and I like how it will time you to see how fast you can get it. But sometimes I get stressed out because I don't have enough time, and I like how it has every language including Pirate." (Bug, age 7)
Find Out More About Mango Languages:
Pricing (as of this review date) is as follows:
1 subscription (person) is $18 / month or $125 / year
2 subscriptions are $28 / month or $175 / year total
3 subscriptions are $38 / month or $225 / year
4 subscriptions are $48 / month or $275 / year
5 subscriptions are $58 / month or $325 / year
Anything over that will be a special group rate that you would need to contact Mango about directly.
You can also find Mango Languages on Twitter, Pinterest, or Facebook, and you can sign up for a free 30-day trial to experience Mango Homeschool Edition for yourself.
Make sure to take a look at what my Crewmates had to say about Mango!