With three kiddos to teach at home, and limited time actually BEING at home (since, as you know, us homeschoolers are incredibly unsocialized...), I've found that taking advantage of virtual learning tends to be a win-win for us--as long as it is for the right kiddo. My youngest, Bug (1st grade), is the one who seems to just excel with computer-based learning, and he and I had the chance to take a peek at Science4Us.com through an Online Subscription.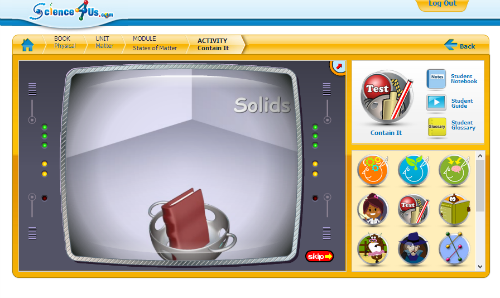 What is Science4Us.com?
Science4Us.com is a complete, early-elementary (Grades K-2) online science curriculum. It is standards-based and covers 28 different modules (that hold over 350 lessons, activities, and worksheets!) within physical, inquiry, life, and earth and space science. Each module introduces and teaches important scientific concepts through the "Five E's": Engage, Explore, Explain, Elaborate, and Evaluate.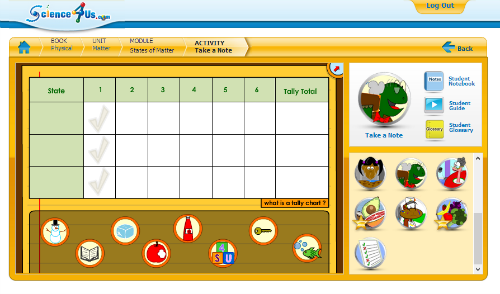 For example, in the Earth and Space lesson, the modules cover: History of Earth, Materials, Features, Weather, Exploring the Universe, and Earth in Space. When a child or parent selects one of those modules, such as Exploring the Universe, they will go into an Engage activity: in this case, the child will listen to and watch a story about a boy imagining himself in space, and then they will circle items in their "notebook" that can be found in space. The Explore activity then offers up a model of the solar system for the child to move around and well, explore. Moving from that lesson into the Explain section, there is a short video lesson (animated) that teaches about our universe and what is found in it. The child then gets to Elaborate through a number of games and activities based around the information they have been introduced to. At the end of the lesson, there is an Evaluation, which gives the child a chance to show what they know.
Science4Us.com incorporates other learning into their science learning. For example, one activity that we kept coming across was Silly Bulls. This game would break new vocabulary words into syllables and ask the child to put the mixed up syllables into the correct order. There were also opportunities for the child to create graphs, Venn Diagrams, and charts that would lend themselves well to reinforcing math lessons.
What Did We Receive?
We received a six-month online subscription, which gave us full access to the online course for six months for up to four students. I only used this with Bug, since he was the only one in the recommended age range. However, I did get an account for Firefly (5th grade) as well, because I think that it will be a valuable review for her as time goes by.
Currently the price for a monthly subscription is $7.95 per student per month.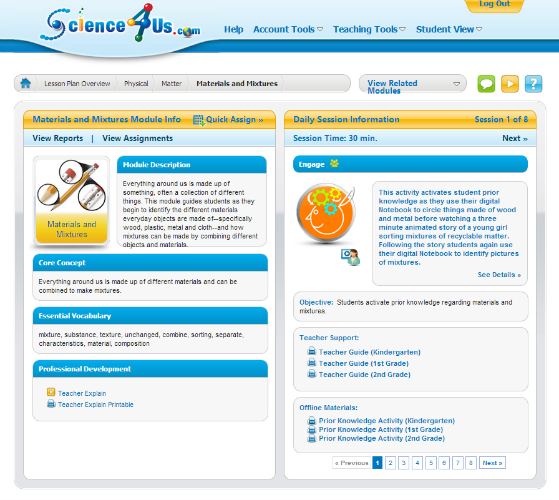 How Did We Use This in Our Homeschool?
Early on, Bug and I used this resource together. Although there is a recommended scope and sequence for first grade, we chose the modules we wanted to do first based on both his interests and on what we had been learning about at home previously. We started out in the Earth and Science lessons, and from there went into Physical Science.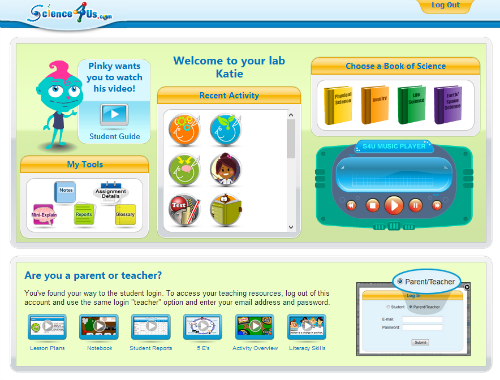 Both of us started out together by watching the Getting Started Videos, which I highly recommend! There is just no way to cover everything that this program offers in one review, and these are incredibly helpful, both in getting started and in learning about all of the "highlights" of the curriculum. Once we saw these, I logged in, explored, and printed off some of the teaching materials for the first lessons.
There are teaching resources for every module / lesson, and they are a wonderful resource. They offer activities that can be done off line complete with materials lists and procedures, suggested discussion questions, flashcard-type pictures and information, and so much more. Many of them, however, seem to be directed toward a classroom setting, or at least a setting with more than one child, but they can be easily adapted for the most part.
Some days, Bug and I would do suggested off line activities and then some of the online fun. Most days, however, we simply worked through the online program itself. The suggested pace from Science4Us.com is two weeks / module, with 4 activities / week. We moved more quickly than that, doing the whole Earth and Space lesson within a month. However, we did not use all of the offline teaching activities, and we were covering information that Bug was generally familiar with. We spent about 20-30 minutes a day on this website, both gathering information and playing reinforcing games and activities.
What Other Resources Does Science4Us.com Have?
The answer to this question really demonstrates a strength of Science4Us.com, in my opinion. There are just a ton of resources offered through this curriculum that are aimed at helping the homeschool Momma. First of all, on the student's home screen are a number of the helpful "Getting Started" videos that I mentioned above. There is information about the Student's Notebook, about the Lesson Plans, the Five E's, and other resources. Then, for the student themselves, there is a glossary, a notebook they can work in, assignments, and "mini explains"--short videos that help to explain a concept or vocabulary word that may be unfamiliar. There is also a video that explains the whole program and how to make it work, with a cute little guy named "Pinky".
The parent / administrator section is even more full of information. It is possible to view and make assignments, view and edit your child's notebook, including adding comments, learn new teaching strategies, print worksheets pertaining both to the lessons and to other educational material--things like prefixes and suffixes, cause and effect, and main and supporting ideas. The lesson plans are also easily accessible and very rich. There is also a student report section, which includes how many minutes your child spent in each lesson, completed activities, and evaluation scores--complete with an opportunity for you to see your child's answers.
What Did Bug Think?
"It was very, very fun. I liked how they used character-types of things instead of real people. I liked how sometimes they mixed up words to make you think they were one word instead of the right word, like syllables with Silly Bulls. I want to keep using it."
What Did I Think?
I was very impressed with Science4Us.com. There have been times when I've signed up for a computer learning program only to decide that we have to use it as "fluff"--more of a supplement to what we are learning, or as a way to free me up to work on something else with another child. Science4Us.com, however, feels to me like the real deal. First of all, Bug loved the program. He was always asking to use it and when his time was up, he would want to do more. The program is set up to teach real information and to reinforce that information in fun, interactive ways. I really feel like the Student Notebook was a special part of the curriculum, as Bug could complete activities on his own in it, and I could comment on them later and leave him little messages. This application did take some getting used to on his part, though. It wasn't the most user-friendly for a seven year-old.
I felt that the information that Bug was being taught was accurate, and although at first I felt it might be a bit over his head, he learned and retained it all. There were many times when he would just spout out a random fact, and where asked where he had learned it, the answer was Science4 Us. A caveat to some of my homeschooling friends, this curriculum is not specifically Creation-based. From the lessons that I've watched, Science4Us.com seems to be evolution / creation neutral, and I've not had any problems with the information that Bug is learning.
Also, the way we've used Science4Us.com has been just barely skimming the surface, I realize. Although I have used the lesson plans and the offline resources a few times, we've done most of our learning online in the program itself. I have used it to assign lessons, and I use the Student Reporting section often. We have not had a problem using select features, although I know I am doing myself a disservice not using everything. I just tend to get overwhelmed easily--and also, the lesson planning tools are a lot to print off.
We will definitely continue to use Science4Us.com in our homeschool, and will probably also use it after the subscription we were given runs out. I think that the $7.95 / student / month price is more than reasonable for this science curriculum that works, is wonderfully fun to use, and includes so many resources!
Find Out More About Science4Us.com:
Twitter
Pinterest
Facebook
Google +
See what my Crewmates thought about Science4Us.com by checking out our page with all reviews: