My kiddos are slightly addicted to good books. There are many, many times during the day that I have to ask them to take their books off of the kitchen table so that we can use it for eating. (Rough problem to have, I know!) But I'm telling you this so that you understand what rough critics we have in our home. All three of them love new books, but they don't all have the patience for books that don't grab their attention quickly, and then hold onto it.

Enter
Barbour Publishing
, and their offering,
Diary of a Real Payne Book 1: True Story,
by Annie Tipton. This is a sweet chapter book with an adorable softcover and fun pictures inside. Recommended for ages 8-12, it is 192 pages and is currently on sale for $4.49, although the regular price is only $5.99.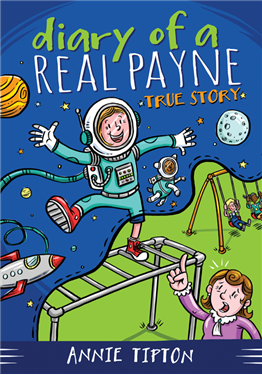 As soon as this book hit our mailbox, my Firefly (age 10) swiped it! She started on it right away, and (as you can notice from the pictures above) could not put it down! She has now read it three times, and is not-quite-patiently waiting for Book Two to be released.
I am going to let her tell you about the book in her own words (and since none of the rest of us have been able to take it away from her to read it ourselves, lol!)
Firefly's Book Review
Emma Jean Payne, also known as EJ Payne, is an imaginer. Sometimes she's a race car driver, personal pilot for the President, or an astronaut in space. But this time her imagination has gone too far. She can't get her head out of the clouds into real life. She knocks over glue at a store being a race car driver, she thinks her teacher is an alien speaking to her, and the washer is a personal pilot helicopter! But when EJ's big-time enemy and bully is in her class in a new year of school, EJ tries to keep her imagination to herself and not let Cora Lee--the enemy--get in her way. She keeps her diary to see the side of her story. But soon she finds out the real secret to Cora Lee's life, and suddenly feels ashamed. Can EJ give Christmas to a family who needs one? Code Christmas Phase One--check!
I thought the book was AMAZING!! In fact, I can hardly wait for the next one to come out! I don't have a favorite part--I love it all! If I could change the book at all I would only make it longer. It is probably the best book I've ever read. Thank you, Mrs. Annie Tipton for letting me be the first to read it. I can't wait for number Two! I hope every single kid in the world could read it. I know they'd love it!
(Me again) As a momma, I was thrilled with this story. First of all, anything that makes my kids even more excited about reading is a win-win in my book (hee hee). Secondly, this book is Christian-based, and EJ and her family and friends talk often about God--He even shows up in EJ's "imaginings"!