It's extremely important today for our kiddos to have proficiency with the computer and the technology that comes along with it. But because of the screen-time restrictions I have to put on one of my children specifically, I try to do my best to make sure that the time we do allow online is high-quality time. I want it to help my children to learn and become more proficient in this new technology-driven world.
Time4Learning
is one of those computer-based learning programs that I have always heard of and wondered about, so I jumped at the chance to review it and test it out.
What is Time4Learning?
Time4Learning is "a technology-based online educational program that teaches preschool to eighth-grade curriculum using a combination of animated lessons, interactive activities, and reinforcing worksheets." (from their website)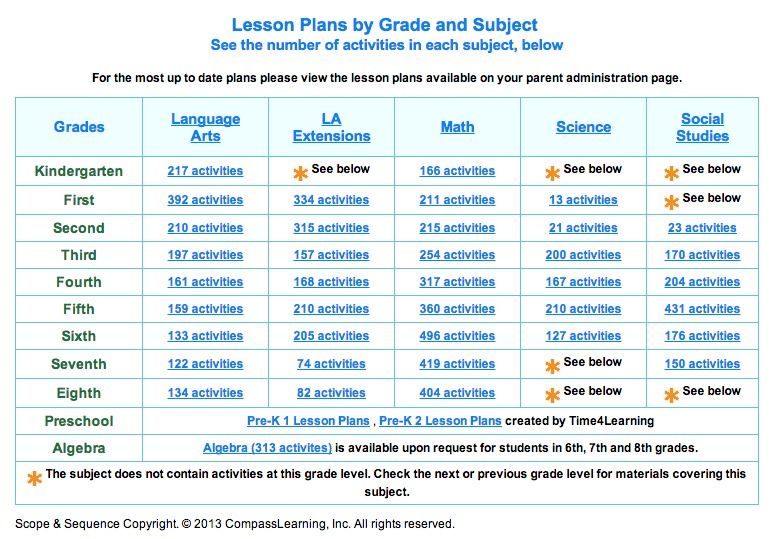 In a nutshell, it is a comprehensive (over 1000 different lessons!), web-based learning program that uses many different teaching techniques to instruct children. There are animated friends to teach lessons, quizzes, games, and a lot of humor (at least in the level we used.) There are also printable worksheets and lesson plans, detailed reporting for parents, a "playground" kids can use as a reward for work well done, and a parent forum.
Time4Learning covers preschool to eighth grade, and teaches skills in Language Arts, Math, Science, and Social Studies. There is also a new high school program.
What Did We Receive?
We received a six-month subscription to the First Grade Level for Bug, which included Language Arts, Language Arts Extensions, Math, and Science. There are no specific lesson plans for Social Studies for First Grade, but we had access to the Second Grade plans to use. Also, although we received the First Grade level, you are always able to access one grade level above and one grade level below the grade that the program is set to. That's a great feature for many families who may have children reading at one level, but doing math skills at another.
How Did We Use This?
Although
Time4Learning
can be used as a stand-alone, full curriculum, we did not use it this way. We used it more as a supplement to our homeschool days. Bug would log on several times / week after his other work was complete and spend time exploring the site. The way we had it set up, he could access any lessons that sparked his interest, and he spent much of his time in the math and science sections. I was able to set a lesson plan and assign sections to him, but we did not use Time4Learning in this way for this review.
I did use the Parental Controls to set the timer, so that he had to spend at least fifteen minutes in learning activities in order to spend a maximum of fifteen minutes in the playground. (That's a fun little feature, right there, lol!)
(If you can see in this picture, the playground button is gray. Bug hasn't learned long enough! When he reaches the correct amount of time, it will turn orange.)

Although Bug preferred to play in the Math and Science sections, I had him explore the others as well, so we could get a good feel for the curriculum across the board.

Each time he used Time4Learning, he would use the learning sections for about thirty minutes. In that time, he could complete three to four full lessons or more. Occasionally, there were lessons that he would want to do more than once, so of course I would have him just go right ahead!
What Did I Think?
First of all, I'm going to be honest about my initial reaction (after all, that's what these reviews are all about, right?) I love the idea of Time4Learning. It is adorable, at least at the First Grade level. My Bug loved using it, and the lessons that I watched him do were interesting and thorough. The quizzes given after some of the lessons were relevant to what had been taught, and I thought the information itself was just challenging enough to keep Bug's interest in learning without making him frustrated.
The amount of parent "control", for lack of a better word, is huge! Parents can set up a lesson plan customized to their child, their abilities, their time-frame, and their preferences. They can then assign lessons for their students to complete each day, and then check the numerous reports to see how the child performed, how long they spent, which sections they did, etc. Parents can also set a minimum amount of time that a child needs to work in order to access the online "playground" and play games, and they can set a maximum amount of time that the child can play at that playground. They can access and print out worksheets to supplement the lessons, and there is a parent forum where they can gain support from other parents.
That--all of that--was a bit too intimidating for me, especially since we were using this simply as a supplement. I think if we were using this as a full-time curriculum, I would force myself to use those features and truly understand them all, and I appreciate how wonderful all of that information would be to have access to in that situation. There are some great video tutorials on the site that help parents learn to navigate through some of these features.

Would Bug use it again? Yes, in a heartbeat! In fact, he would probably choose to do all of his work through Time4Learning.

Would I use it again? In certain situations, absolutely! Right now, all we need is a supplement, as all of our other curriculum is set nicely, and is Christian-based. And I think that Time4Learning is a wonderful supplement, but even more wonderful as a full curriculum. Since we have a full curriculum, I don't think I could currently justify the cost.
What Did Bug Think?
"I love it! I like the show at the front of it, and the monkey is my favorite, and how it has different people in each lesson that are teaching it. My favorite was math, how there were all of these different choices." (Bug, age 6)
Find Out More About Time4Learning:
Time4Learning is available as a monthly subscription for $19.95 / month for PreK-8th Grade students, with a reduced rate of $14.95 / month for each additional student. The new High School lessons are available for $30 / month / student. Time4Learning offers a 14-day money back guarantee, but they also offer many
lesson demos
for you to see the content for yourself. There is also a
short video
that gives you an overview of the program that I would recommend.
My Crew-mates reviewed other grade levels of the program, so make sure to take a look at what they experienced.