I'm pretty sure I've said this before on this blog--but I LOVE board games! LOVE. In my happy place that exists mostly only in my head, we have family game nights all the time. (In my reality, there is usually more arguing than playing, but we can all dream, right?)
So, I am always on the lookout for fun games to collect--and if they are educational in any way, it's a big bonus!
The Presidential Game
fits the bill for both.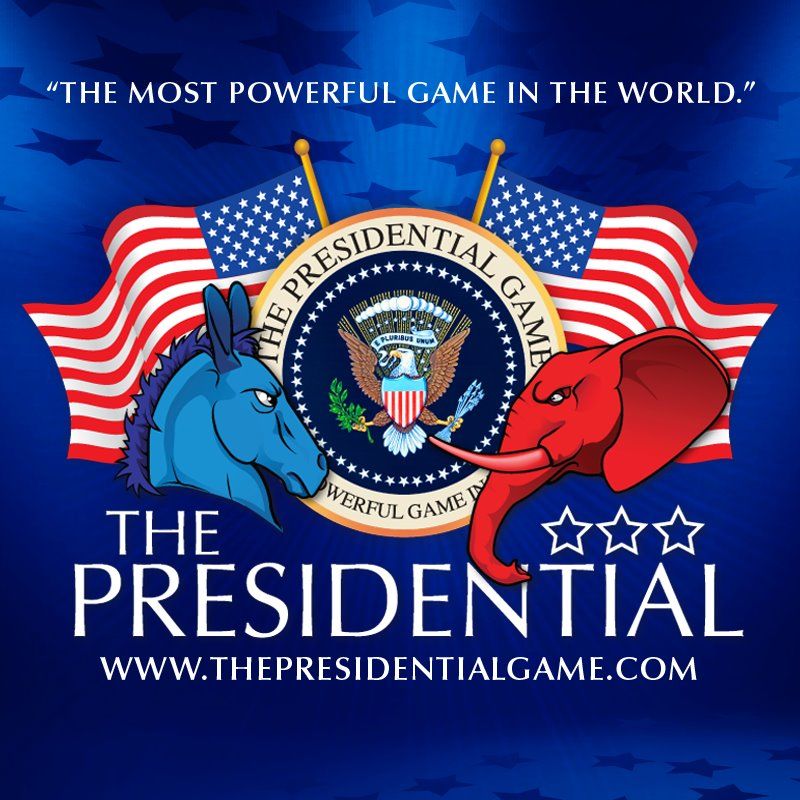 We had the pleasure of receiving The Presidential Game to review, through the TOS Schoolhouse Review Crew. This game takes the players through the presidential election process. Teams of Democrats and Republicans battle each other in campaigning and fundraising, as they try to bring states under their control and collect electoral votes.
The game is designed for ages eleven and up, and that is how we have used it in our family. Most games were me vs. Turtle (13). Although the game can be played with more than two people, it is split into two teams, so extra people would simply equal larger teams.
The board and materials are sturdy, and the directions are clear and simple to follow, for the most part. In the case that anything is a bit confusing, there is a great page of
Frequently Asked Questions
online that can clear things up. Essentially, on each turn, teams decide if they want to fundraise or campaign. Based on their choice and the roll of the dice, they may gain enough votes to "win" a state. The team with the most votes (or the first to 270--we've played it both ways) wins.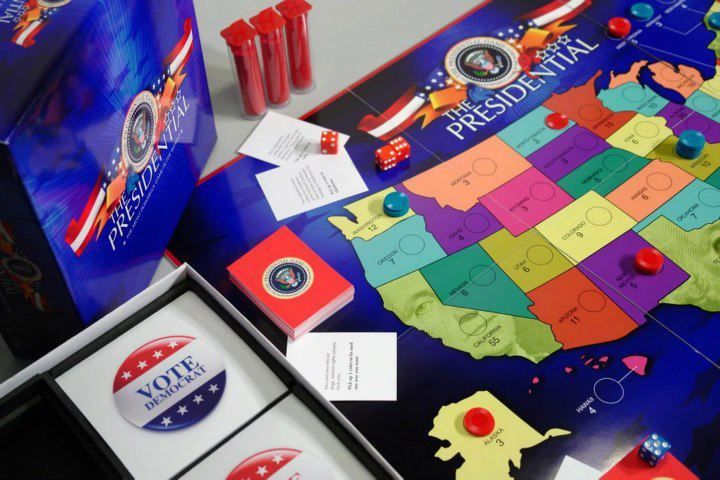 This game is great in many ways. First of all, it's very flexible in how long the game lasts--a plus for those of us who don't like games to go on too far past bedtime. It is set up for a thirty-week campaign, but you can decide ahead of time how many weeks you'd like to play. In our experience, a fifteen-week game takes 30-45 minutes.
Secondly, it's definitely a great learning game. It covers the electoral process, state placement, and strategy. However, another great learning opportunity comes in the form of the Politics Cards. You get to choose one after you've fundraised, and based on an action or statement of yourself or your opponent, you get to gain--or lose--votes in specific states. Many of these cards presented great discussions as to
why
some of the actions caused vote re-distribution. There are also blank cards that can be filled out by your family in order to add or subtract votes.
This game is fun! Turtle was always eager to play, and it was always a new game. There were enough strategy options to keep things new, and we played it several different times.
There is one other piece to this game that bears mentioning, and I really feel like it's the most wonderful piece! At the end of each "week" of play, there is a lot of "math practice" in trying to keep track of all of the electoral votes. That worked well for us, for a while. But then we took advantage of the
WebMap Calculator
, which took the game to a whole new level of fun! We accessed this on my iPad, and with a simple touch of the state, it would change from neutral to Republican to Democrat, and all of the electoral votes would be calculated automatically! Great bonus!
"It was really fun! Each state had it's own number, and it was a good competition game. I really liked the whole way the game was set up. It was cool that it was online, so you didn't have to do the math." (Turtle, age 13)
You can receive your own copy of The Presidential Game for $35.00. Make sure you take a look at what my Crew-mates thought when they reviewed the game.