The
Family Hope Center
is a center focused on helping children with special needs and developmental delays by empowering their families to heal their children. Their focus is on helping parents and families understand how the brain grows and develops, and, through this understanding, to help these parents become the best, most effective therapists for their special needs child.
The Family Hope Center believes that each brain-based disability, such as: cerebral palsy, paraplegia, autism, ADHD, dyslexia, epilepsy, or Parkinson's are the result of injuries to specific parts of the brain. Successful treatment targeted at that specific part of the brain can make the symptoms of the problem disappear.
Matthew and Carol Newell are the directors of the Family Hope Center, and have been working with special needs children and their families for over 25 years and have many certifications and awards to their names. They also have children who have special needs themselves.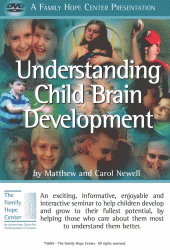 What Did We Receive?
For this review, I received the DVD of
Understanding Child Brain Development
($19.00). It is available on the Institute for Excellence in Writing website, and Matt and Carol Newell, who are the speakers on the DVD are introduced by Andrew Pudewa (of IEW fame!)
Mr. Pudewa shares that he feels the Newell's information is extremely important as we work with our children at home. Many times we find ourselves trying to teach a child that is struggling in an area that we are having a hard time reaching, and these are the troubles that the Newells are trying to work with.
As a momma of a special needs kiddo myself, and a former trainer in Brain Development, I was very interested in this DVD at both the personal and professional levels. It is a well-done DVD and lasts approximately 2 1/2 hours, and is available in six different languages.
What Did I Think?
I watched the DVD over several sittings and took numerous notes throughout the sessions. I was hooked in the beginning, when Matthew stated, "The problem is the problem. You are the solution." He spends a great deal of time helping the parent and / or caregiver understand that they can be the best therapist for their child, if they only learn about and understand the best ways to help.
Most of the DVD is spent explaining the different areas of the brain and how they affect behavior. There are several slides that reinforce this information referenced in the DVD, and one slide in particular that goes through the stages of brain development by age and behavioral characteristics. I had a hard time making the viewing area large enough to get a good long look at this slide, which I know would have been helpful.
Once the different areas are described, the DVD covers some information about how best to help "restore" brain function in the damaged areas. Therapies such as enhancing nutrition, scheduling consistency, and decreasing exposure to electromagnetic fields are addressed. Mr. Newell also encourages Cranio-Sacral Therapy / Manipulation as an effective tool, as well as some other therapies that are part of the program that they introduce at their center.
As a special needs Momma, I am always, always looking for answers. I want to know how to "fix" my child, so that she won't continue to struggle as much as she does now. As a Momma, I was a bit frustrated with the DVD. I think that maybe I was looking for more answers than it was possible to gain in a DVD. I, of course, went immediately to the website for the Family Hope Center, and was left with some discouragement. First of all, we live in Florida and the Center is in Pennsylvania. There is also not (that I could find) specific pricing information on evaluation and treatment planning.
Not that I am going to ever put a price on my child's head. But, in reality, we've already spent quite a pretty penny on evaluations and therapies and medication--and I'm not sure a trip to Pennsylvania is going to fit nicely in the budget.
As a Momma, I like the emphasis on more natural therapies and treatments. We have moved to dietary changes and regimented schedules in our home and found some improvements. I would love to wean my girlie off of her medication just as soon as we can.
However...
As a professional, I had some questions about what I was watching. The brain research is solid, and the areas of the brain are defined and described well, although the information may be a bit hard to absorb if it's your first time learning it. I liked that some of the "why" is explained for parents, and I loved that the focus was on helping parents best help their children. I guess I just had a bit of a hard time being given parts of the information about how best to help my child, and then left with a bit of an impossibility in trying to gain the rest of the information--unless I go to or purchase a three-day seminar and then apply for a two-day evaluation of my child.
I think the information is solid and helpful. I think the message of hope is strong and important. I think that the $19 can be money well-invested, if only to learn about the structure of the brain and that, as parents, we are our child's best advocates. I think that parents need to be aware, though, that this is not an instant fix--more of an informational overview than a long-term solution.
This DVD can be ordered through IEW, or by calling 1-610-397-1737.
If you'd like to see what my Crewmates thought about this DVD, you can click on the banner below.