Ever hear of lapbooking, my friends? I have and I thought we had been doing it here and there--informally, of course. But through the blessing of the TOS Review Crew, I got to experience TRUE lapbooking--from
In the Hands of a Child
.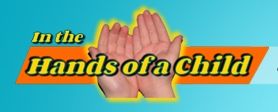 What Is In The Hands of a Child?
In the Hands of a Child is another one of those great companies that came about when some homeschool moms had a hard time finding just what they wanted in order to best teach their kiddos. In 2002, two online homeschool momma friends decided to take matters into their own hands and make some ready-to-use lapbook kits. (If you need a crash course on what a lapbook is, they are explained in detail
here
.)
Eleven years and over 450 Lapbook and Notebook Project Packs later, In the Hands of a Child is going strong. They strive to "provide quality lapbooking materials for all educators while serving homeschooling families and classroom teachers looking for an easier way to put laughter and learning together in the hands of their children." (
from their website)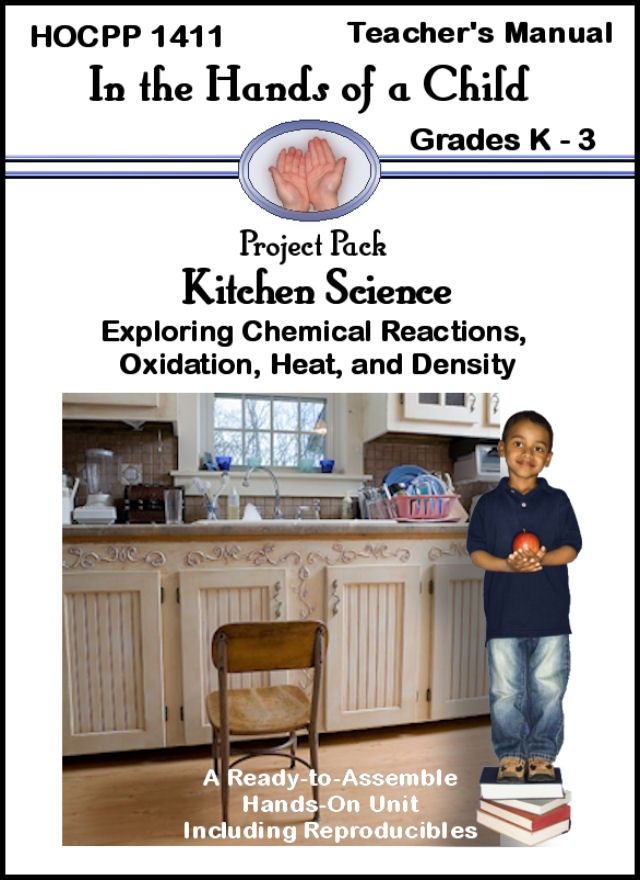 What Did We Receive?
For our review, we received the Project Pack:
Kitchen Science: Exploring Chemical Reactions, Oxidation, Heat, and Density.
This pack is for Grades K-3, and sells for $12 normally. (It is on sale, along with many other titles for this month of August, and you can get it for only $5 until 8/31/13).
This was emailed to us in a downloadable format, and includes a 5-day planning guide, a related reading list, fifteen get-your-hands-dirty activities, a research guide, an answer key, and all of the printables needed to make a great lapbook about Kitchen Science!
Once I received the file, I quickly and easily printed it all out, and placed it into a 3-ring binder for simple use.
How Did We Use Kitchen Science?
We used Kitchen Science over a six day period--not all consecutive days. My main purpose was to use this as fun summer learning with my Bug (age 6), but both of my girls were quickly "sucked in", especially when we were doing the experiments, so they were always part of the learning as well!
Each day was laid out in the planning guide, with vocabulary, reading sections, and activities all listed out for each day. We chose to start each day by going through the reading, and then trying to answer the vocabulary words. The reading was all contained in the pack, and while we could have used the extra resources listed, we chose not to. The information that we had in the pack was thorough enough for my almost 1st-grader.
After we read, we would go over the vocabulary words for the day. Typically, I would have Bug look through the definitions given and try to find the match for the vocabulary word. We cut out and glued the definitions to the cards with the words on them, but you could also have the child trace or write out the definitions.
After the vocabulary words, we would move into the activities. There were always at least two, and most often three activities per day! We made balloons (gloves) blow up and orange soda to drink one day, while learning about chemical reactions.
Another day we learned how heat affects different items, highlighted by the Great Marshmallow Experiment!
A day of learning about oxidation brought some very interesting activities.
After each day of experimenting, we would recap what we had learned, either by drawing or writing about it, or by using some of the other printables that were provided in the pack. We would then put all of our information into our new lapbook.
Each day's full activities typically took 45 minutes to one hour.
What Did I Think?
This product was a perfect fit for our homeschool!
Why?
First of all, Bug loved it! He was always ready to participate in all of the activities, even when they would finish up with some writing (which he doesn't like. At all.) He stayed very engaged throughout the whole learning time, and really thought everything was "so cool!" One day we even had his two little boy cousins visiting, and the activity he wanted to do with them was Kitchen Science!

I loved it! This Momma loves teacher-not-intensive preparation, and this book has it! All I had to do was print out the material, and look ahead only to make sure we had the supplies we needed for the activities. And as far as that went, the only thing that I didn't already have on hand was marshmallows--but if I weren't on a health-food kick, I'm sure we would have had those too, lol!
The activities were fun and easy to do, and you know what else? They worked! Always a plus when it happens, but we've had our share of not-working science experiments at our home, too. And, like I mentioned before, although these were aimed at younger kids, both of my older ones were fascinated by what we were doing.
The lapbooking elements were wonderful. The best part of them was that they could be adapted for all ages and ability levels. For example, in the picture below, there are a few pictures of our notebooking for the marshmallow experiment. Marshmallow 2 was written about by my 10 year-old, on lined paper. Marshmallows 3 & 4 were drawn by my 6 year old. Both kiddos could participate fully, at their own levels. All of the lapbook components were done in this way.
What Did Bug Think?
"I really, really liked it! It was so fun to do the experiments, and I liked it when the marshmallow got very huge! I didn't like to glue things, but the drawing was fun." (Bug, age 6)
For More Information:
If you are interested in the Project Pack that we reviewed, you can
download a free sample
of it. The rest of the Crew, however, received all kinds of different Lapbooks and Project Packs, so make sure you go over to see their reviews to get a close-up of some other products.