If you are anything like me, you may have heard of
Notgrass Company
before. I had seen them at homeschool conventions, and here and there heard their name tossed around on message boards and Facebook pages. I had never before, however, fully looked at their curriculum. For some reason, I always thought that my kiddos weren't quite old enough to use their materials.
How wrong I was!
And how glad I was to have the opportunity to be proven wrong!
The Notgrass Company is a family-owned company that was founded in 1999. They "
develop Bible-based, easy to use homeschool curriculum that helps parents like you teach the heart, soul, and mind of your child.
"
(from their website).
Notgrass has curriculum that can be used from K-8 grades, high school curriculum, and family curriculum resources that cover art, Bible, civics, economics, English / literature, government, history, and unit studies.
What Did We Review?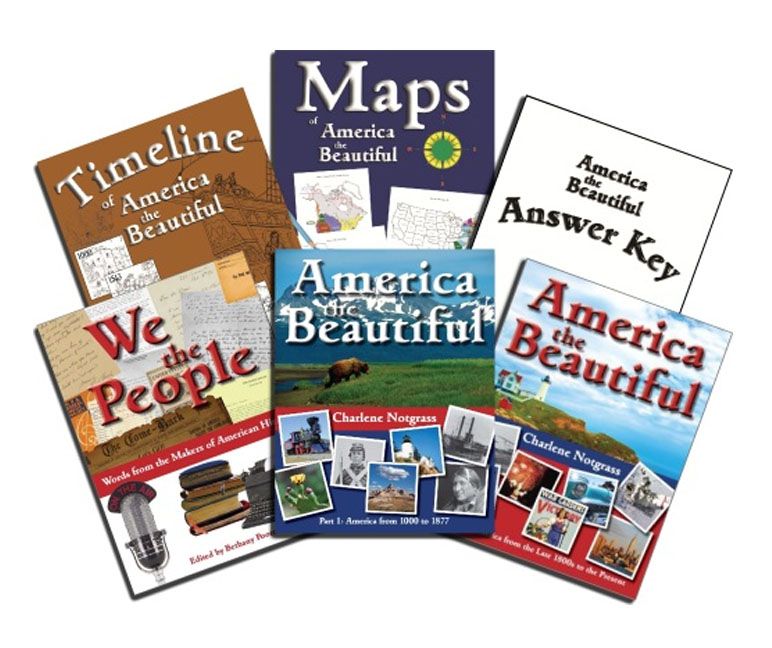 We received the
America the Beautiful curriculum package
($99.95), as well as the
America the Beautiful Student Workbook
($11.95) and the
America the Beautiful Lesson Review
($9.95).
The Curriculum Package includes:
--America the Beautiful, Volume 1, a hardcover, 436-page living history book that covers American history and culture from earliest Native American life through the Civil War.
--America the Beautiful, Volume 2, is also a hardcover living history book, and it covers America's westward expansion through modern times. Both volumes contain 75 lessons, and cover 30 Units overall. The lessons in the volumes usually cover God's Wonders, Our American Story, Daily Life, Biographies, and American Landmarks.
--We the People is a wonderful collection of 150 historic documents from American history, from stories written by Native Americans, to journal entries from Lewis and Clark, to a speech from Ronald Reagan.
--Maps of America the Beautiful is a softcover book of blackline maps of different parts of our country. Each map has specific instructions for the child to do based on the history lesson.
--Timeline of America the Beautiful, which is a black and white illustrated timeline of American History, also a softcover book.
--America the Beautiful Answer Key
This curriculum is aimed at grades 5-8, and is designed to be a one-year American History, geography, and literature course.
The Student Workbook that we received contains fun review activities for each lesson; things like crossword puzzles, word searches, or drawing activities, and is designed for 5th-6th graders.
The Lesson Review, on the other hand, is designed for 7th-8th graders, and contains review questions for each lesson, mostly in short answer form.
The Answer Key holds answers for both of these workbooks, as well as for the rest of the curriculum package.
You will also need to get some corresponding literature selections for some of the units if you wish to use them. Notgrass suggests purchasing additional workbooks, maps, and timelines if you are using the curriculum with more than one child.
How Did We Use This?
Well, first of all, after I finished drooling over it as soon as it arrived, I cleaned it all up and decided to jump into it the very next day with my kiddos. (And I'm only half-kidding about the drooling!) American History is one of my absolute favorites, and these books are so beautiful and full that I had a hard time putting them away and making dinner. Darn that UPS guy who comes so late in the day!
I was able to quickly scan the Introduction and the How To Use America the Beautiful sections, and we were able to dive right in. Although the program was meant to be used with 5th-8th graders, my 1st grader often sat in on the lessons, along with my 5th and 8th grade girls. He enjoyed the stories, but there were definitely parts of the book that were more difficult for him to follow.
Each day I would read a lesson from the text (about 5-7 pages long), and then we would typically do one or two of several suggested activities at the end of the lesson. Some activities that are suggested are: Biblical application and / or copywork, map study, vocabulary, literature suggestion, creative writing, timeline, Student Workbook, Lesson Review, or a Family Activity.
There are five to seven activity suggestions given for
each
lesson, which tends to make certain box-checker type of people think that they all
have
to be done. (Not that I would know anything about that...) However, it is made very clear in the beginning of the book that not every activity has to be done for every lesson, and I think that is a great suggestion--especially if you want to complete this program over one year. There are also great suggestions for using the program with children of multiple ages, with guidelines of what to expect from each age.
Typically, we would read the lesson and I would pick one to two activities for us to do as a family. We would always do the map study, which was very helpful as we are also studying states and capitals this year, and we would always read the literature suggestion from We The People. I would also have the girls complete their workbook pages: my 5th grader would use the Student Workbook, and my 8th grader would use the Lesson Review.
Using the lessons this way, each lesson would usually take us 45 minutes to one hour.
What Did I Think?
Ms. Notgrass' desire for America the Beautiful is that those who use it will "be in constant awe of what God has created in America, both the physical place and the people whom God in His wisdom caused to live here. By learning about what God made, we learn about Him."
American History AND honoring God? Hooray!
I loved, loved, loved this curriculum! The books are beautiful and visually appealing, and the lessons are written in an interesting and story-like way. There are plenty of pictures that help to illustrate the points being made which my kiddos loved to go through and look at.
The volumes are extremely easy-to-use, with very little teacher preparation. I was able to open and go on most days, unless it was a day (about every 5) that had a family activity. Those usually required supplies that I had to prepare for, as they were often a craft or cooking activity.
We the People was my absolute favorite part of this program! It is a great treasure of wonderful excerpts from famous documents, as well as parts of letters from regular people who lived in earlier times. Even my father-in-law was spellbound looking through this book when he came over for dinner one evening! American History dorks? Yep, that's us!
All of my kids loved the maps and timeline, although since we only received one copy of each we had to work on our sharing. The instructions for each were very easy to read and understand, and the activities kept my kids engaged, which was also true of the Student Workbook. Firefly (who regularly and often complains about all things school-related) never complained about doing these activities, and my Bug would even try to get to them first to do them without her!
The Lesson Review was a bit of a different story. Although I thought it was a great tool and useful for scanning the comprehension of the lesson, my Turtle would grumble over it. Of course, she's not a history fan in any way, so to her it just seemed extra work.
What Did My Kiddos Think?
"I liked it. And I didn't. I liked that it taught what kind of Indians they were and showed the pictures and told you that there was so many Indians in the world. But you would think there was only one pack in the world. There's so many tribes, though. What I didn't like is that it was hard to understand sometimes." (Bug, age 6)
"It was really fun. Doing the maps and learning about America the Beautiful. I liked doing the activities. They were creative and really pretty cool." (Firefly, age 10)
"It was OK. I liked doing the maps, but I didn't like the reading." (Turtle, age 13)
You can find out what some of my Crewmates thought about America the Beautiful and other Notgrass Company products we were given for review below, and make sure to check out the video also, to get a clear picture of what the Notgrass Company is about.