Have you heard of the
Institute for Excellence in Writing
(IEW) before? We have heard of and / or used their products for each of our four years of homeschooling, and I have so far been thoroughly impressed with each one we've sampled.
IEW is a company based on offering products that help children learn how to "communicate with confidence and style." The products offer teachers, from public or private school teachers to homeschooling parents, a way of teaching writing "guaranteed" to bring success--whether your child is a very verbose little girl who loves, loves, loves to write, or a writing-phobic little boy.
Andrew Pudewa
, the founder of IEW, is by training a violinist and Suzuki-taught violin instructor, but happened to chance upon a wonderful method for teaching writing introduced to him by Dr. James B. Webster, an African history professor, of all things. Today, Andrew is the director of IEW, but also is their principal speaker around the country. As a matter of fact, I have had the opportunity to meet him in person and listen to several of his lectures, and he is wonderful!
Which Product Did We Receive?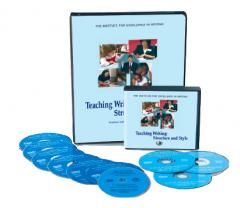 For this review, I was blessed to receive the
Teaching Writing: Structure and Style Seminar and Practicum Workbook
($169), as well as the
Student Writing Intensive Level A
set ($109).
Let me start with the Teaching Writing: Structure and Style set (TWSS). This program is a complete syllabus for teaching
writing
to all children in Grades 2-10: it does not include separate spelling, handwriting, or grammar. It comes with 10 DVDs and a three-ring binder full of notes, helpful samples, and lists to use in daily learning.
The DVD lessons are a seminar for parents / teachers. The first six DVDS go over the nine units of teaching writing that IEW covers:
--Note-making and Outlines
--Summarizing From Notes
--Summarizing Narrative Stories
--Summarizing a Reference
--Writing from Pictures
--Library Research Reports
--Creative Writing with Structure
--Formal Essay
--Formal Critique
There is also a good deal of opportunity to practice the techniques that are taught built-in to the program. These DVDs cover about ten hours of viewing time.
After those DVDs are viewed, there is an additional one labeled "Tips and Tricks" and then there are three more DVDs that show sample student workshops for three different age / ability levels.
The binder and handouts come already organized, and include some of the following for each unit:
--Goals
--Materials Needed
--Teaching Procedures
--Hints on Adjusting for Grade Level
--Frequently Asked Questions
--Examples of Student Writing
--Sample Lesson Plans
--Additional Tips
There is also an Appendix that contains more student samples, online resource lists, additional lesson plan samples, and lists of suggested "banned" words for students, as well as suggested "better choices".
You can view Andrew Pudewa's introduction to TWSS, as well as samples from the DVDs
here
.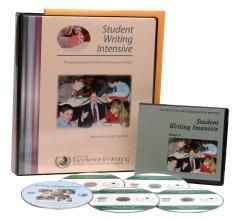 The Student Writing Intensive, Level A (SWI-A) is a video seminar directed toward the elementary school student. It is targeted at Grades 3-5, and I used it with Firefly, who will be a fifth-grader in the fall. This program comes with:
--A 2+ hour DVD for parents overviewing the Structure and Style Method of Teaching Writing
--Four DVDs for the students that offer Mr. Pudewa doing the instruction
--A 3-ring binder with tabs that the student will use during the program
--Student Handbook
The Student Handbook contains Teacher's Instructions, Scope and Sequence, suggested course schedules, and Teacher's Notes on each of the fifteen lessons. You can peek at Mr. Pudewa's introduction to this course, or check out an excerpt from the lessons
here.
How Did We Use This Product?
I'm going to be honest with you (because, after all, that IS the point of these reviews, right?), I was tremendously overwhelmed when I received all of these materials. As in Tremendously.
That is, until I looked more closely at the SWI-A "Easy Start Instructions", followed them, and took a few deep, cleansing breaths.
Easy Peasy.
We got our Student Notebook set up, looked over the Teacher Instructions, and started.
And after that, we simply followed along with the suggested course schedule for a 30-week program and checked off the boxes. Each day there were manageable pieces of the program to work on. Some days there would be a video lesson, other days we were working on Key Word Outlines, some days were just for editing. On video lesson day, we would spend about 45 minutes on the lessons--they are very thorough--but on other days, the lessons would take anywhere from fifteen minutes to an hour. I did sit down and watch the lessons with Firefly, and I sat with her as she did her writing parts as well.
The TWSS program was different--it is specifically for parents / teachers. I used that part of the program on my own, watching the DVDs as I had time--at the soccer field, in the car, late at night when everyone else finally went to bed. The handouts that worked hand-in-hand with the DVDs were all included right in the binder, and were all clearly marked.
What Did I Think?
Like I said, we have used IEW programs before and really done well with them. Most notably, we used their writing programs with Turtle through
Classical Conversations Essentials
. And for Turtle, who liked to write, I thought that they were good programs, but I was a bit confused about the "point" of some of the exercises.
Yeah. I should have watched the TWSS videos first. I sooooo get it now!
I can't overemphasize the importance of watching these. Yes, ten hours is a lot, especially for us homeschool mommas who have approximately fifteen seconds of time to ourselves on a good day. But if you can squeeze them in in little bits at a time, it's amazingly worth it!
Not only does Mr. Pudewa explain the "hows" of his program, he explains the "whys". And that's when I almost audibly heard the lock pop open. The "why" of his style of teaching writing makes wonderful sense, and all of those unanswered questions that I had through Essentials all of a sudden had answers.
The Tips and Tricks DVD was also very helpful. I think of it as "Part Two". This DVD addresses all of those, "well, what if?" and "how about?", and "what about this?" that you may wonder about after you begin to implement the program.
Now, the SWI-A program. Let me put it this way. Picture all four of us in our schoolroom one morning, working independently, when I slip in the first lesson on DVD for Firefly and myself to watch. Less than five minutes later, Turtle, who had been working on another computer, turns and says, "what is that?" When I tell her what we're doing, she sighs and says, "I wish I had gotten to learn it THAT way!" Two minutes after that, Bug has crept over and joined us in laughing over the videos.
All three of my kiddos. Laughing. Wanting to learn about writing.
What? Victory!
Mr. Pudewa is fun to watch. Kids can relate to him, and to the other kids in his "class" on the videos. He wants them to write in pen. He wants them to make mistakes and messy papers. And then he shows them an easy, step-by-step way to write stories, essays, or reports.
Now, although my Firefly never seems to have a problem coming up with ideas to write about, she hates the physical process of writing. She hates being told what she needs to write. She hates spending lots of time on schoolwork.
Not one time did she complain about her hand hurting, or about the subject matter, or about the time. She was chomping at the bit each time we started the lesson, although she was definitely more excited on a day when there was a video lesson to go over.
Really, she was an Andrew Pudewa groupie. And then, at state convention time, she GOT TO MEET HIM!!! Very exciting stuff to meet a true celebrity, right?
Aside from that, the materials were laid out beautifully, making them user-friendly and simple. Grading was set up in a checklist fashion, so that even the child could make sure they had all of the needed elements in their writing. Examples were given on how to use the writing techniques across the homeschool curriculum, so you could truly use the same program with American History, Life Science, or even with folktales.
Although a sample schedule was included, this program is flexible enough to use at your own pace. Additional practice suggestions are provided for kiddos who need more time to master a lesson, or you could skip past those for children who have got it down. And it is set up to be used year after year with new expectations, or over one year with mixed ages and / or abilities.
There are also additional SWI courses for Grades 6-8 and Grades 9-12.
What Did Firefly Think?
"It's absolutely amazing! I love it so much, and it's so fun! I like to watch the videos and then do the assignment like I'm in his class, and he actually gives you time to finish, unlike some others. My favorite part was how we re-write the stories, and it's really fun!" (
age 10
)
All in all, we thought that this was a wonderful program. I've already recommended it a number of times to my local homeschooling friends, but now I'm highly recommeding it to you as well. It is a bit pricey, but you will be able to use the methods again and again throughout the years of school, so it, in my opinion, is well worth the expense.
Some of my Crewmates reviewed other levels of this program, or other programs that are part of the IEW family. Hop on over to see what they thought as well.