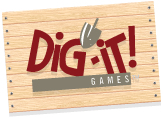 Dig-It! Games
is a rather unique company in the land of computer games. These games were founded and created by
Suzi Wilczynski
, who is a former middle school teacher, but also a professional archaeologist!
How cool is that?
When teaching school, Ms. Wilczynski found a shortage of tools that could teach her students about the foundations, importance, and techniques of archaeology. Like many of the best teachers, she decided to take matters into her own hands and created her own way for her students to learn.

What is Mayan Mysteries?
Mayan Mysteries is an online-based game for grades 5-9. It begins with a scandalous looter, Landrone, digging up Mayan artifacts from archaeological sites. It falls to "Team Q" to help stop the looting and find all of the missing artifacts. Through learning about the history and culture of the Mayan civilization, and solving numerous puzzles along the way, the player can help to solve the mystery once and for all! (or at least until they have completed this game--there is a Mayan Mysteries II on the way...)
How Did We Use This?
We received Mayan Mysteries as a one-year online subscription ($21.99), although there is also an iPad app for the game ($9.99). My almost 8th-grader and I used it together. She is truly not a "gamer", but she does enjoy trying new websites on the computer. We used it in 20-30-minute spurts throughout our week, mostly for fun summer learning. And, truthfully, I did use it a time or two without her, lol. (I was really into the game!) We used this game several times over the review period and did not complete it, although I do know that other reviewers were able to complete it in the time given.
What Did I Think?
First of all, I do need to say that we are not typically a computer-game type family. When my kiddos get free computer time, which is limited, I really like to make sure it is something they are learning with. (Yep, I am that kind of mean mommy!)
That being said, I was impressed with this game. It is an interesting premise, and definitely a mystery. Although Turtle did not get sucked in as much as I did, she was continually interested in what was going to happen next.
Each "section" of the game begins with a screen that gives information about different aspects of the Mayan civilization. On this screen, you can see some of the words highlighted in blue ink. If you click on these words, you are given even more specific information. After you read through this, you are taken to a screen where you have to answer questions about what you learned in order to stay ahead of the looters. Often, you also have to solve some type of puzzle to gain a clue, an artifact, or complete an achievement.
Was it fun? Yes, I thought it was fun. It kept our attention and we were both eager to continue playing. The music was "mysterious" and catchy, although you can turn it off if you prefer. There are some dialogues with the characters that take place in comic-book style look, which adds to the game-like feel. And although some of the elements were the same, such as the question and answer game, the puzzles were always different. It was fun to be able to be surprised with a different task to complete.
Was it educational? Very! We had spent some time in the past briefly studying ancient cultures like the Maya. However, this game really goes in-depth on many different aspects of the culture. There was so much information, really, that sometimes we stopped our play because we were slightly overloaded, and I really wanted the learning aspect of the game to sink in. Along with the Mayan information, there was a lot of good teaching about archaeology techniques and tools.
Was it hard? I thought that some of the puzzles were pretty tricky, and sometimes there was not a lot of direction given on how to solve them. There were always "hints" to use that were very helpful, but, being the competitive family that we are, we didn't want to use too many and decrease our score, lol!
What Did Turtle Think?
"It was really fun and it wasn't like other computer games. I honestly thought it was going to be bad. I liked that you got to do different things every single time and you didn't have to keep doing the same things over and over again." --age 13
Overall, Mayan Mysteries served our purpose as a fun way to sneak in summer learning. It is definitely one we will stick with to finish, and, once we are done, I will let my younger ones work on completing it together. It is easy to reset the game to let a different child complete it, or to let your child complete it again and try for a higher score.
Many of my Crewmates also reviewed the online subscription AND the iPad app. You may want to check those out to see what they had to say, and you can also play a
free demo
of the game yourself!