Memoria Press
is one of those companies that has always peaked my interest. You know the type, right? Someone on a blog mentions them, so you go to their website and browse around for a while...You see their booth at a vendor fair, and just keep going back again, and again...That little voice inside keeps getting excited about the products--just maybe not
quite
excited enough.
Well, I'm here to tell you that after having the chance to review one of their products hands-on, I am now officially way excited enough!
Memoria Press is a family-run publishing company that prides itself on encouraging classical Christian education. They offer products that are characterized by three things: simplicity, quality, and affordability. It all sounds pretty good, doesn't it?
What Did We Review?
We received Memoria Press'
Geography I
program (
$48.00 if buying as a pack
), covering the Middle East, North Africa, and Europe. With this program came the Teacher Guide(
$12.95, if purchased separately
), the Student Text (
$14.95
), and the Student Workbook (
$11.95
). This course also includes a review of United States Geography, with the United States Geography Review Workbook (
$5.00 for the workbook and $7.95 for the Teacher Key
).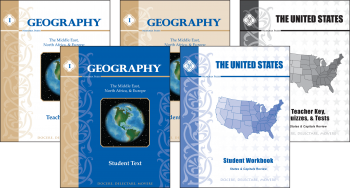 The United States Student Workbook and Teacher Guide is meant as a review, as the U.S. is more thoroughly covered in Geography lessons in another program through Memoria Press.


In the Geography I program (for Grades 4-8), there are 43 countries / lessons covered in the book, as well as lessons on entire regions at the beginning of each specific region. Each lesson begins with an introduction to the country. The introductions read like stories, and give a historical context to the area as well as its boundaries today. A sample page of the introduction can be found
here
.
After the introduction, there is a blackline copy of the country's flag, which can be colored in by using the full-color reproductions of all of the flags in the back of the textbook. There is also a table of "Fun Facts"--basic country identifiers, such as major cities, bodies of water, climate, etc. On the facing page of the textbook is a large map, with important landmarks noted. There is a review lesson after each region, as well as several quizzes and tests.
Memoria suggests studying two to three countries per week, by first reading the text, coloring the flags, recording favorite facts about the country, and map work. All of this is included in the
Student Workbook
. It is reinforced through the Teaching Guidelines found in the curriculum that the goal of this course is country identification on a map, including the capitals. It is
not
on learning, memorizing, and retaining the historical information.
How Did We Use This?
I used this program with my Turtle, who is in seventh grade. She's had a brief introduction to Geography in the past, in the form of map work in Classical Conversations. She was not incredibly thrilled to try this, but agreed to give it a shot.
We sat down together, two to three times a week, after the littles went to bed (and we could concentrate), and worked on one country in each sitting. Each country / lesson would take typically 20-30 minutes, although we often forgot to color in the flags. After we worked through a section, she would spend some time reviewing it before a quiz or test.

Although we worked on this together, mostly because I wanted to see the program up close and personal, but also because I happen to be pretty interested in Geography (yes, I am that kind of a nerd!), this could easily have been completed by Turtle independently.
What Did I Think?
Personally, I am
loving
this curriculum! First of all, it is basically an open-it-up-and-get-started program, and those always appeal to me! Secondly, it is a very basic, no-frills program, but it's not dry and boring by any means. It is full of stories that make the geography and history come alive. Both Turtle and I looked forward to doing the lessons together.
Simplicity? Very simple, but effective. Teacher-friendly and quick and easy for the student to do.
Quality? Very well-done. Great historical background on the geographical areas, well-written, and consistent throughout the book.
Affordability? I think so. I really think the price was wonderful for what you receive. I'm already looking more at the website for the United States full program for Firefly next year, as well as Geography II for Turtle for when we finish Geography I. Although you would need to replace the Student Workbook for each successive student, the rest of the materials could be used again.
All in all, this was a wonderful fit for our family!
What Did Turtle Think?
"It was really quick, which was nice. But I still liked learning the information about the countries. I thought all of the ancient history was kind of neat, and the way that it had the activity book made it easy, but you still got something out of it. It was quick and simple, but effective. I'd love to keep doing it for next year, too." (
age 13
)
Make sure to take a look at what my Crewmates thought as well. Some are also reviewing Geography I, but some others received
Prima Latina
, just in case you were thinking about adding a Latin program to your homeschool...