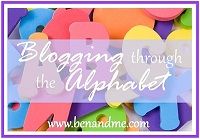 I have always wanted to have a garden. I love the idea of planting little seeds, tenderly caring for them, and watching them produce food to nourish our bodies.
Ahem.
Wanna know something?
I'm not really very good at gardening.
As a matter of fact, I seem to have inherited my mother's black thumb. All of my previous attempts at gardening have not gone well. At all.
But THIS year it's going to be different.
THIS year I have helpers.
THIS year I even bought railroad ties (or 4x4s), so that my garden looks official.
THIS year I even researched what I should plant when for which part of the country.
So this past Tuesday, Bug and I shopped...
Firefly, Bug, Turtle, and I worked on our little patch of garden, pulling up all of the pre-existing weeds...
Bug and I spread out our planting soil to make things all level and fertile-like, while Firefly rocked her shades...
and later that morning, we had planted two rows of vegetables and herbs.
Later that day we put our seeds in the ground, each picked out a plant and named it (don't ask), and labeled our pretty little rows.
And just so you know that I've already determined that my black thumb will live on, here is a picture of our weather lately (like as soon as we finished planting...)
Gotta love it!!
Hopefully, our little plants won't drown, and my dream can live on!