We are three--count them--THREE days away from the "end" of our school year!!!!
Amen.
Not, mind you, three days away from actually finishing anything. Just three more schooling days before I leave for a fun homeschool convention and then it's Memorial Day and I refuse to school after Memorial Day. (And, yes, I've learned about run-on sentences this year, lol!)
And there is a bit of a footnote to this, since we will technically be doing "school-like activities" over the summer, but more on that a little later...
BUT--did you hear? THREE more days!
And since I am such a nerd, I'm already well into the planning for NEXT year, with lists and highlighters and calendars (oh my!); however, now is a really good time to look back at this year and see what worked--and what didn't--for us.
And then I choked on my popcorn.
Umm, yeah. I was tremendously ambitious and / or delusional.
What we are doing now is sooooo not what we started with!
So with no further ado, here is our curriculum list for the year--edited--as in, after I knew better...
Group Work:
Expedition Earth
--this was great!! We loved it and had a blast with it, and we will be able to use it for many, many years to come. Because we went really slowly with it. As in, took four months to make it through the Arctic, Antarctica, and most of Asia. When we started again in January, we switched away from Geography into Apologia Science Land Animals, since we were blessed to be able to borrow a copy. I think I'll do the same thing next year. Half a year of Geography, half a year of Science.
Or maybe not.
Nature Study--yep. Failure number one. OK, OK, I won't call it a failure. It was (the first) one of those things that fell through the cracks when life interrupted.
French--Ahem.
Poetry--Double ahem.
Picture Study, Composer Study--Let's just say that Firefly took an art class and both Firefly and Bug are taking piano over the summer, K?
Kindergarten:
Heart of Dakota Little Hearts for His Glory
--We love it! Really love it! Just don't ask what unit we're on, OK? Suffice it to say that we did not finish the book for this one, but I'm pretty confident that that's going to turn out all right in the end. It is set up perfectly for workboxes, easy to use, fun for my Bug, and has been a joy. We're going to move right into
Beyond Little Hearts for His Glory
next year.
Handwriting Without Tears
--this is a great tool for handwriting, especially for my handwriting-allergic kids. You can read my review of this program
here.
Explode the Code
--again, a favorite! Bug worked almost through book one this year. We're going to keep this one up.
Singapore Math
--yep. This one didn't last. Mostly because I got the chance to review some other math programs that worked better for Bug. He loves the computer, so
A+ Tutor Soft
was a good match, and we are in the middle of reviewing
Math Mammoth
. We may not go back to Singapore for him just yet.
Abeka readers--didn't touch them. Oops. Mostly we used the library for readers when he began to read well. And then our homeschool community formed a Boys Book Club, which has been wonderful!
Fourth Grade:
Math Made Easy Multiplication
and Singapore Math: Well, we did finally, finally, FINALLY finish our Singapore 2B math book just this week. It's only taken two years, but who's counting? Granted, math is nowhere near Firefly's best subject, which I know I've mentioned before (you know--tears and tantrums? THAT math?) Multiplication Made Easy was wonderful, and we have finally mastered multiplication tables. But since we have ALSO mastered math tantrums, we are moving into
Teaching Textbooks
next year (OK, next week) to take the mean math teacher label away from me.
Abeka Reading and Science /
Writing Tales
: Firefly liked them--well, kind of. We have discovered this year that she enjoys learning in a much different way, so we moved away from a set reading / writing / vocabulary / science curriculum and into unit studies. Thank you,
Amanda Bennett
!
So, much of her leveled science has been through the exploration of dogs and horses through the unit studies. Her reading and comprehension has been from library books about--you guessed it--dogs and horses. Her writing has been reports on things she learns in her unit studies, although we have recently introduced more formal grammar and writing studies from
Essentials In Writing
, and even more recently,
Institute for Excellence in Writing
(which we just started reviewing).
Handwriting Without Tears--We finished the book! In case you're keeping score, we actually did complete two books this year--I'm not saying which year we started them all.
All About Spelling
--Firefly is a horrible speller and we have struggled with spelling for some time. I kept reading praises about All About Spelling, and just finally bit the bullet and ordered it.
Oh boy.
Yes. This is the one for us. She has worked almost through Level Two and is getting it. That makes me happy. I think we'll stick with it.
Seventh Grade:
Biggest. Change. Ever.
Turtle started the year in public school, so her curriculum choices are completely different than they were in August, as we pulled her back home in December. We then spent several weeks laying low and trying to figure out what we would do and playing trial and error with different choices.
We ended up, currently, with a virtual class for Language Arts, Teaching Textbooks for math (remember taking away the mean math mommy?), Community Bible Study, and she is just two weeks into a virtual photography class (which is for another post, but, can I just say I am thrilled that she has decided to pursue something she is passionate about?!)
What didn't work? Oh, my, the list was long!
What will we use next year? Oh, my, that list is also long! I'm feeling some pressure to get her ready for high school and I'm sure I'm going to overdo it.
Tremendously ambitious and / or delusional, here I come again!
Check out what worked (and what didn't) for some of my CrewMates by clicking here...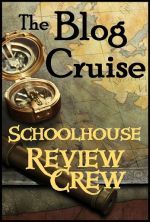 I'd love to hear about your favorite choices this year. What will you definitely be using again? What do you hope you never, ever see again? Leave a comment below...