In my never-ending (it seems) quest to find THE perfect, magical math curriculum for my children, I had the opportunity to try out
Math Mammoth.
I'd heard of Math Mammoth before, but didn't really know too much about it.

"Math Mammoth offers affordable, yet quality math worktexts and workbooks for grades 1-12, loved by parents, homeschoolers, and teachers."
(from their website).
OK--affordable, quality, loved. Sounds great, right? I hopped over to their website to investigate more. And it seems that there is a lot more over there than just a year of math curriculum for your child. Math Mammoth offers several different choices of products for you to use with your kiddo:
The
Light Blue series
(Grades 1-6) is a complete curriculum by grade level, including tests, reviews, and a worksheet maker. It focuses on "mastery-based" math and emphasizes mental math. You can order Grades 1-6 as a download for $136, or order by grade level.
The
Blue series
(Grades 1-6) goes by topic--not by grade level. It is a shorter worktext (like a textbook and workbook combined) based on one math concept only, to be used for reviews or more reinforcement. These books range in price from $2 to $7 as downloads.
There are also
Review workbooks
, by grade level instead of by concept ($5.50 for a download), a
Golden
and a
Green
series of worksheets only (Golden by grade, Green by concept), and the
Make It Real Learning workbooks
(Grades 3-12) that offer real-life applications of math concepts, and make math much more meaningful ($4.99).
What Did We Receive?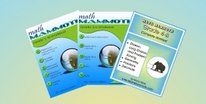 We decided to try out the Light Blue series (the complete curriculum) for
First Grade
for Bug. Both volumes together contain 254 lesson pages, as well as instructions and eight pages of an optional Kindergarten review. They currently download for $34.00. The topics that are covered in first grade math are: addition and subtraction with strategies for memorizing the facts, understanding place value to 100, measuring lengths, geometric shapes, time to the half hour, and counting coins (which is covered in your choice of five different currencies!)
There are a few manipulatives that you would need to have on hand to fully teach this level, such as a 100-bead abacus, an old-fashioned clock (as in analog), and a ruler that measures in inches and centimeters. Other than the abacus, we were all set with just items around the house.
How Did We Use This Curriculum?
To this point, Bug has been used to doing his math on the computer, so this program being workbook-based was a novelty for him. Since he is just finishing Kindergarten, we did start with the optional Kindergarten review, and then moved right into Chapter One. Each chapter begins with an introduction for the parent / teacher, explaining what will be covered in the chapter, as well as offering some helpful teaching hints. There is a breakdown of the topics taught with a listing of how many workbook pages cover the topic, and then there are some game instructions for playing and learning math, as well as helpful internet resources.
After this, you move right into the worktexts. There is not a set amount of pages to work on each day. Math Mammoth recommends dividing the number of pages needed to complete the level by the number of days of school, and deciding how many to complete that way. However, we simply did as many or as few as Bug could handle. He initially went through four to five a day, but then settled into a routine of about two, when the material became harder.
Now, we used first grade math, so there was not a huge amount of instruction needed in the beginning of the curriculum. Some days I would sit with Bug and help him complete the pages, but other days he did just fine sitting down to complete them himself. However, as it got further in, there was a need for additional instruction, which is provided in the beginning of each topic.
There is a test covering each chapter that you can use with your child, as well as cumulative reviews that cover several chapters at once. There is also a worksheet maker, which allows you to make additional worksheets if your child needs more practice on a topic, and answer keys (obviously, not as important for first grade as they are later on, but always nice to have!)
What Did Bug Think?
"I liked it. It was really good. What I didn't like about it was the simple parts. I liked the thinking in my head parts."
What Did I Think?
I enjoyed this curriculum. It is a simple, no-frills math program, which works for my no-frills math guy. The worktexts were colorful without being overly "busy", and we had the flexibility to go at our own pace, slowing down when we needed to to make sure he completely understood the concepts. There was also a good deal of support from Math Mammoth to help him understand the concepts--like game offerings, drill opportunities, and additional internet games to try or worksheets for practice.
(a bad picture, yes, but we were playing the "Some Went Hiding" game with his matchbox cars)
At times the curriculum seemed to move a bit fast, but those were the times when we backed off and did some other activities to make sure the understanding was there. There also was not as much "lecture" or "lesson" teaching as I am used to--but then again, it was only first grade math, so that may be why it was not quite so heavy-duty.
How Can You Check it Out for Yourself?
Math Mammoth has a number of
free samples
that you can explore to see if you think this program would be a good fit for your family, and there are also
free placement tests
you can have your child take to see where they would be most "happy" to be started.
You can also check out what my Crew-mates had to say, if you just click
here
: