We have used several different approaches to grammar and writing in our homeschool over the years, which makes sense with our variety of ages and learning styles!
We've used unit studies, formal co-op style programs, diagramming sentences-books, and many, many others.
And, truthfully, for my Firefly, I just hadn't gotten around to wanting to expend the effort on teaching her grammar.
I didn't think she was ready to understand the concepts.
Then, we had the opportunity to review
Essentials in Writing
, a grammar and writing program, and my Mommy guilt took over. I figured that now was as good a time as any to start with her and give it a shot. (Can you tell my expectations were maybe not where they should have been?)
But, wow!
What a very, truly pleasant surprise!
Turns out that not only was my Firefly ready to learn and understand these concepts, she LOVED learning them!
As in "can we do another lesson today?" LOVED them!!
So I have really got to tell you all about this curriculum that we used...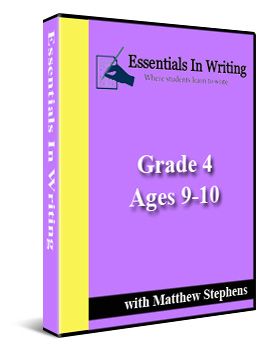 Essentials in Writing is a writing curriculum with a goal to "help produce confident writers who enjoy the study of language" (from the website). They teach grammar and writing lessons, including rules for language and the concepts that help to make our children more effective communicators.
The neat thing about Essentials in Writing is that it is DVD-based. Matthew Stephens, the creator, is a former public school English teacher, and he is featured on the DVDs. He teaches the main concept of the lesson, gives practical examples, and then turns the student loose to practice the concept with worksheets. There are usually one to four worksheets for any one lesson, with one worksheet to be done each day.
The
fourth-grade curriculum
, which we received, comes with the DVD and a PDF version of the worksheets, assignment sheets, and answer key (gotta love answer keys!). The lessons themselves include the following grammar concepts (in 28 lessons):
Simple and Complete Subjects and Predicates, Compound Subjects and Predicates, Sentence Errors, Independent and Dependent Clauses, Complex Sentences, Common and Proper Nouns, Singular and Plural Nouns, Pronouns and Antecedents, Action and Linking Verbs, Adjectives and Adverbs, Subject-Verb Agreement, Possessive Nouns, Punctuation and Alphabetization.
The writing concepts (30 lessons) include:
The Friendly Letter, The Writing Process, Writing a Narrative, Parts of a Paragraph, Descriptive Writing, Persuasive Writing, Informational Reports, Other Forms of Written Communication, and Poetry Stanzas and Rhyming.

How Did We Use This Curriculum?

Day One, I popped in the DVD. I was just really excited to get a look at it, and I had peeked at the parent letter that came with the video, explaining how best to use it. My Firefly isn't allowed much screen time, so she was pretty thrilled with being able to watch a movie for school, lol!

On the days when video lessons were required, we sat down together to watch them. Each video seemed to take an average of five-seven minutes. Mr. Stephens is very clear and easy to understand, and uses a whiteboard to illustrate his point. After the video lesson, Firefly would work to complete the worksheet for the lesson: the "A" worksheet was for the first day of the lesson, and if there were more worksheets, the "B" worksheet went with the second day, etc.

We worked through four or five grammar lessons, and then skipped farther along to test out the writing lessons. These were set up in the same format, with video lessons and corresponding worksheets / writing assignments.

We used this each day that we schooled at home, as our only formal grammar and writing curriculum.

How Did Firefly Like This Curriculum?

"I really liked it. He explained a lot and the worksheets were really fun. I understood it good. It was really easy to understand and easy to learn the lesson."

(OK, so we didn't get to the lesson on "good" vs. "well" yet, lol!)

But, aside from the error, she loved it! I even got the quote, "Yay! I like these worksheets!". Seriously. I wrote it down because I couldn't believe it!

By the way, Firefly hates worksheets. And writing. Go figure!

How Did I Like This Curriculum?

Really, this is a no-brainer. Did I mention my Firefly hates worksheets and writing, and ASKS to do this curriculum?

Yeah, I'm in love.

I was very impressed with Mr. Stephens brief, yet very clear lessons. He really does explain difficult concepts well, and I was amazed at what Firefly retained of the material she learned. The worksheets were also brief, but to the point, and reinforced the material well without being overwhelming.

In the writing section, writing is approached as a way to communicate. For example, our first lesson was in writing a friendly letter. Firefly wrote three. Evidently, it's much easier to write a letter to your Dad than to just sit down and write out a synopsis of the story Mom just read to you. (Although I have the utmost confidence that she will be able to do that, too, once we finish!)

This curriculum has been a wonderful fit for our family, and will be one that we continue to use over time, as it (thankfully) is offered from Grade 1 to Grade 12.

How Can You Get Your Own?

The Essentials in Writing Curriculum for each grade costs $40, and includes the DVD and PDF worksheet file. You can opt to have the worksheets pre-printed and bound for you for a $20 fee.

On the website, you can look at the scope and sequence of each grade, as well as look at sample worksheets and watch sample video lessons.

I think that this is a great, relatively inexpensive, to-the-point grammar and writing curriculum. You don't ever have to just take my word for it, though. My crewmates also reviewed Essentials in Writing. Here's what they had to say: