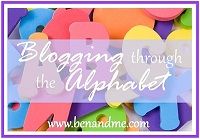 I've been reading some really neat blogging ideas, and my friend Marcy has run a "Blogging Through the Alphabet" theme before. This year, I thought I'd join in.
Easier said than done, ladies and gentlemen.
After the kids and I sat down and had a rousing lunchtime chorus of:
"A is for Apples"
"A is for A Really Great Kid"
"A is for Alligator Hunting" (yikes!)
"A is for A New Kitten"
and
"A is for Achoo"
then I decided that maybe I should figure out what A is for, lol!
So,....
A is for Art.
I hate art.
Art projects, art clean up, art supplies, art time...
Pretty much all of it, which probably has a little bit to do with the fact that I am really, really not good at it!
My girlies love art. In a really big way.
How did we reconcile this in our homeschool, you ask?
Well, of course. I pay for someone to teach them art.
Once a week, Firefly right now, and next year all three, go to the home of a local art teacher for ninety minutes of instruction in artists, methods, picture study, and creative, messy art projects!
Jesus Calming the Storm (with paints and using shapes and color value. Uh-huh. That's why someone else teaches them art!)...
using pastels and sparkling spray to create a winter mountain scene...
"Flat Stanley" made out tinfoil and wire...
printmaking and pastels.
This "outsourcing" of the art process works great for us!
Maybe, after all, A is for "A Great Idea"!