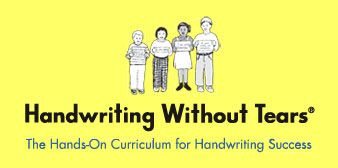 I'm guessing it's pretty hard to live in the special-needs kiddo world for very long without having to struggle with issues surrounding handwriting.
Whether it's the "I don't want to write ALL that", "that pencil hurts my fingers", "I can't see how to make that letter", or (our personal mantra) "I HATE writing!!", there are a number of reasons our kiddos tend to cringe at the idea of writing.
Some legitimate, others, not so much...
But anyway...
Firefly's Occupational Therapist was the first one to point us in the direction of
Handwriting Without Tears.
Encouraged by the name, I quickly got online and went to check them out.
What I saw encouraged me. There was a wealth of information offered to me as a parent:
video lessons,
worksheet makers
,
newsletters
,
online seminars
, and on and on and on. Also, their philosophy seemed to be based on fun: "to solve the problems associated with teaching handwriting and do so in a way that is joyful, effective, and innovative" (from the Teacher's Manual).
And you know what was best of all? Their products were cheap! Like, really cheap--most textbooks were under $10!
I was sold. And so we entered into our cursive journey with Firefly with Handwriting Without Tears, and it was a great fit for her. I ordered just the workbook, and we "winged" it.

And then we had the opportunity to review it through the TOS Review Crew, and I started to wonder what it would be like to use with Bug, since Firefly had been so successful. So I got to try it with my little guy, and we reviewed HWT
First Grade: My Printing Book
. ($8.25)
This time, we got the Teacher's Manual, too. ($9.25--that's it!)
And oh my goodness--talk about worth-it's-weight-in-gold! I couldn't believe all of the amazing resources found in this little bound book!
FIRST of all, there is a password-protected section of the website especially for those who have purchased a teacher's guide, which has even MORE goodies, like additional handwriting activities, tips for teaching, and more teaching resources.
Then, the first forty pages or so are chock-full of parent / teacher instruction: how to use the program, why it is set up the way it is, where to find more activity ideas, stages of learning handwriting, as well as songs and activities to help make sure your child has the proper foundation to begin learning (holding the pencil correctly, positioning the paper, etc.)
**There are quite a few of the activities that refer back to a CD that Handwriting Without Tears sells. We did not receive or review this CD, so I don't really know how it works. However, you can download the
lyrics to the songs
on the website, and we just used the activities that way.**
After I made it through the teaching material, I was chomping at the bit to use the program with Bug, who, I must say, was less-than-enthusiastic to start a handwriting program. He's a boy, see, and he's six years old, and I think six year-old boys are genetically programmed to hate handwriting.
But I've been down the I Hate Handwriting Road before, you see, and this time, I was READY!
We pulled out the workbook.
We jumped like frogs.
We sang songs at the top of our lungs.
We wrote letters in the air for days before we tried them in the book.
And then, he wrote in the book.
And he laughed when he did!
Success, my friends!
I really liked the look of the workbook. It is very simple, black and white, with fun illustrations on several pages. It was a bit overwhelming for my little guy at first, because there is a bit more handwriting practice on the pages than I thought he could handle in one sitting, but we just broke it up, and did one page over two days. That was totally do-able for him.
So, long story short, I've been impressed with Handwriting Without Tears before. They have been a good fit for my kiddos in the past, and, with the First Grade Printing book, they have hit a home run with our family again!
(And, from now on, I'm always getting the Teacher's Guide, too!)
Please don't just take my word for it--you can see what my other review-mates thought as well: