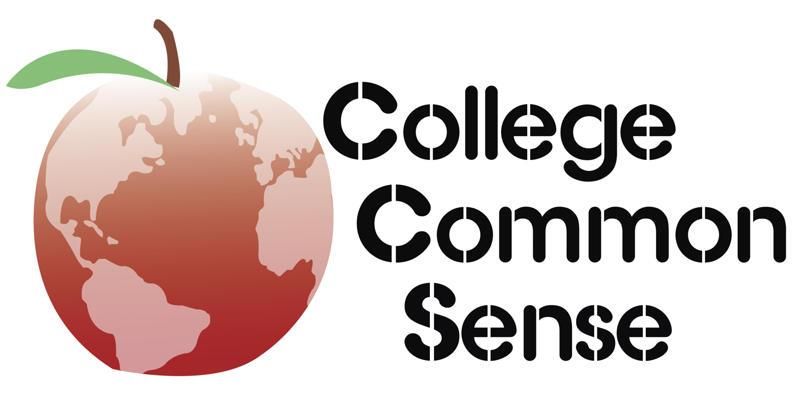 If most of you are like me, (which I'm sure you're not, because you are SURELY all much more on top of things than I am!)...
But IF you are, you haven't given too much thought to college yet.
After all, my youngest just started Kindergarten.
And my oldest is ONLY in seventh grade!
Alas, it is not too early. And although that idea might make you freak out just a little bit (IF you were anything like me, that is, lol!),
College Common Sense
is here to help.
The staff of College Common Sense have a wealth of information about college admissions and financial aid--inside information, helpful information, clear information. They are there to help you and your child navigate through the confusing process, and the "foreign" language of financial aid.
When we received our review product from College Common Sense, we received the
Going to College and Paying for it Online Video and Workbook
package ($25, which includes 12 months of log-in access to the website). You can also opt to receive the information on DVD and print workbook, which will run you about $55 ($50 for the supplies and $5 for shipping and handling).
There are six different videos, "The Big Picture", "How Financial Aid Works", "All About the Free Money", "The System that Works", "You in the Process", and "Put it All Together". Each 15- to 25- minute video showcases
Denise Ames
, who has worked in the Financial Aid office of universities, and who really knows her stuff! The videos also come with the downloadable workbook package. The workbook first outlines the information touched on in the videos, but then it contains activities for the child and / or parent and child to do to help them begin to think about the college acceptance, selection, and tuition process.
The workbook is also broken down into sections, so you can use it best based on what age your child / children are: elementary, middle-school, high school, or college students. The idea is to work through College Common Sense once a month with younger students, and weekly with high school students. There are definitely more activities to do with the older students; however, there are plenty to do with those middle-school aged and younger.
How did we use this information?
I used the program with my Turtle, who is 12 and in the seventh grade. At first, I watched the videos and then just tried to present the information to her that was most pertinent. When I felt I wasn't exactly doing a bang-up job, I had her watch the videos with me. After each video, we would talk through what we learned and then do an activity or two together sometime over the next week.
I also added in some of my own activities that thinking about college seemed to spark. For example, one of the activities had to do with choosing a college and questions to ask on your college tour. Well, we were nowhere near ready to be able to answer "where do you want to go to college?", so I started Turtle with internet research on some colleges she had heard of. We checked out their costs, their women's soccer teams (of course), and their majors.
College Common Sense also offers a free monthly
newsletter
and free weekly
lesson plans
, both of which we took advantage of. These are full of wonderful information; however, I got a bit confused when trying to use both the weekly lesson plans and the online video and workbook, and it seemed to be a bit much for us right now.
What did I think about the product?
I think the information is great, albeit a little overwhelming. Denise presents everything in a very clear-cut way, and helps make the process seem less scary. I think that it is a wonderful tool to get everyone in the house thinking more about college, careers, and the future. For example, when we first sat down to "pick" a college to research, Turtle just sat there. She couldn't think about "where I want to go to college". She'd never been asked to think about it.
Now, she knows there are choices--lots and lots of choices.
She has an idea about what it means that "college is expensive"--with real numbers.
She still has no idea "what I want to be when I grow up"--but we've been talking about it.
And for us, with our oldest in seventh grade, beginning to "talk about it" is important. Very soon we are going to be looking at high school class options, credit hours, and so forth, and I think it's crucial that Turtle start to understand herself what she can become.
What did Turtle think about the product?
Well, she wasn't thrilled. (In fairness, not much thrills her right now at all). I think that making her watch the videos with me was not my best move--they are very much Denise talking about the college and financial aid process. Very to the point, but a bit dry, especially if you are 12 years old. Turtle felt like they were "boring", and "kind of over my head", but she was quick to point out that she "would recommend for high school".
She did enjoy the activities, especially starting to look at colleges and some of the careers that happen in and around our town. She is also starting to pay attention to some of the talking that her father and I do in terms of "putting money aside".
Overall,
I am pleased with College Common Sense. I think it was just exactly what we needed to start thinking about what is ahead. Our awareness was definitely raised, and our thought processes are in overtime!
For us, I think the early high school years will be the best time to revisit the videos and workbook. We will continue to use the lesson plans, though, and make sure we keep up with some of the scholarship opportunities. I'll also make sure to use the information with my younger kiddos, just to have them start thinking about what they want to do to contribute to our world in the future.
My Crew Mates are also reviewing College Common Sense: