The
Institute for Excellence in Writing
has a number of different tools and techniques for teaching effective written communication skills to children. We have used some of their
theme-based
writing lessons for several years with Turtle, as part of her Classical Conversations classes, and I have been very impressed.
Up until a few months ago, though, I had no idea they offered products for much younger homeschool kiddos--those not even able to write yet at all!


We got to review both of these in our home, and we are so blessed that we had this chance!
We used these products simultaneously, but for the purposes of this review, I'm going to separate them out a little bit--the programs themselves are extremely thorough and full of information.



PAL Reading:


The Primary Arts of Language:
Reading Complete Package
is one of those curriculums that you open at the beginning and are then tempted to quickly shut again. It looks incredibly overwhelming at first.
DIG IN!
There is so much value, and so much wonderful information, teaching help, and all of the resources that you could ever need included in the program. Take your time, grab a cup of coffee, and read the Teacher's Manual. There are others on the Crew that went directly to the DVDs. I learn best by reading the information I need, so I chose the Manual, but watched the videos later and will agree they are so very helpful! I spent an entire afternoon poolside, reading through all of the information, and by the time we were done, I was so excited to start PAL that I almost did it as soon as we got home!
The Complete Package includes: the Teacher's Manual, a DVD-ROM that holds an instructional video by Jill Pike, who is the author of PAL, The Four Language Arts MP3 by Andrew Pudewa (founder of IEW), three additional MP3s full of information about communication, poetry, and the reading program, and the Reading Student Book as an e-book, The Phonetic Games, and the Phonetic Farm folder and stickers. This whole package sells for $69.
The Teacher's Manual is where I started, and, truthfully, where I spent the bulk of my time. In it you will find the philosophy behind the PAL teaching methods, as well as a description of the stages of learning how to read. There are tips from Classroom Management to Home Classroom Preparation to Step by Step Lesson Plans for all 80 lessons found in the book.
The Reading Lessons are set up so that they are used the same way each time. The first thing to cover is a brief poetry recitation with some quick discussion (about 5-10 minutes for the whole thing). Poems are repeated for several lessons, and eventually the student is encouraged to try to memorize and recite the poem. Bug actually did this a few times! I was so shocked, as he didn't seem to be paying much attention when I was reading the poems. Ha! That's what I get, right?
After poetry the student works with the parent to learn letters, phonics, and sight words. Much of the teaching in the Reading Lessons is game-based. Below you can see a game we played with the sight words for the colors. All of the games were quickly and easily assembled by me. The curriculum suggests that your child help, but that doesn't always work so well when you have a control freak Momma.
Ahem.


When game time is over, the Teacher's Manual suggests using the Phonetic Farm: a farm scene that your child can add stickers to that help to reinforce learning the phonetic "helpers" that are used in reading.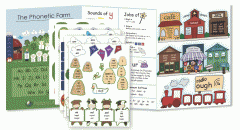 The Phonetic Farm is followed by independent "Agenda" or "Work Time". Here is where you can print out some of the Student Book to have worksheets for your child to do on his / her own that reinforce the concepts introduced in that day's lesson.
PAL also offers suggestions for reviewing at the end of the day.
Did I love PAL Reading? Yes. Absolutely yes! Bug is the first little one I've had that I've had to teach how to read. Both girls were already reading by the time they came home for school. The thought of teaching this was really nerve-wracking for me, and I was having trouble getting my mind past the "c is for cat" stage of reading. Soooo, phonetic helpers that look like farm scenes? File folder games already created for me? A logical way to teach sight words?
Yes, please!
Did Bug (age 5) love PAL Reading? Yes--mostly! You see, somewhere along the line while I was busy freaking out about teaching my boy how to read, he seemed to have given up on waiting for me and he just taught himself. (Figures, right?) Soooo, some of the beginning lessons were kind of review and a bit low for him; however, I wanted to start at the beginning anyway to make sure we were "getting all the steps". He loved the games, but we didn't repeat them as much as the manual suggested we do: I agree that repetition is so very important for young children, but the amount of repetition here started to be a problem for Bug.
The other part he didn't particularly like was the Work Time. Number One, he doesn't like to work independently. The main reason for Work Time is to encourage your child to learn to work independently in short bursts.
Number Two, he doesn't like to cut and paste, and most worksheets contained a bit of those elements in them.
BUT, the way PAL is set up, I felt complete flexibility in deciding how the program was going to be implemented. Some days we cut down on Game Time. On others we skipped the Work Time work. It was so easy to make this program work for us, which is so important.
PAL Writing:


The Primary Arts of Learning:
Writing Complete Package
also comes with just a ton of information! It includes the Teacher's Manual, a DVD-ROM (this one includes an instructional video by Jill Pike, two MP3s covering reading comprehension and public speaking, and the Student e-book), AND All About Spelling Basic Interactive Kit and Level One!! This package is currently $89.
The PAL Writing Program consists of three parts: printing and story summaries (31 lessons), copy work and style with All About Spelling (40 lessons), and composition with style (16 lessons). We have worked through most of Part One--writing is much harder for Bug than reading is, evidently.
Part One's lessons follow a consistent format as well: they begin with a review of a Class Journal, which, in our case, was a spiral-bound notebook that I wrote a small summary of our day in. The journal is used to talk about things like using dates, ending punctuation, even Phonetic Helpers that are learned in the reading program.
After Journal, there is a printing lesson. This is done in an adorable way--each letter comes with a story. For example, "h" is the "tired letter". It looks like a chair that the tired mommy can sink into at the end of the day. The tall line is the high back of the chair, and the hump makes the seat and front legs of the chair. When the mommy sits down, she says "hhhhhhh".
Bug loved listening to the stories--he thought they were just hysterical, and then he would eagerly write the letters he was learning onto the white board. Suggestions are also made for the students to make the letters out of play-doh, using their fingers to make letters in the air, or finally using paper and pencil.
Printing Lessons are followed by a Story Summary, which is the very beginning of dictation. In the first lessons, the story is provided for you from an Aesop's fable. Later on, the teacher is encouraged to find their own story to read aloud and discuss.
Again, with the Writing package, as with the Reading one, parents are encouraged to do review work with the child later on in the day. Truthfully, we did not very often get to this.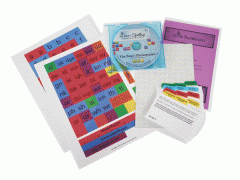 I did not get far enough into the program to begin to use All About Spelling with Bug. I have, however, just finished using Level One with my Firefly. I am extremely impressed with this program. In a nutshell, it is very teacher-friendly, it caters to many different learning styles, it helps my Firefly move while she is thinking, and it teaches us rules of spelling that we can fall back on later. I can't wait to start it with Bug as well.
It was my initial impression that we were supposed to use these products hand in hand, and simultaneously. When we first started using them, we did this. On any given day we would do, for example, Lesson Four in Reading AND Lesson Four in Writing. While this worked out so that we were learning to print letters and then continuing to work on the sounds they made, it just really got to be too intensive for my little guy, and it was taking significant amounts of time. So again, we adapted. We began to do a lesson in Writing on one day, and the corresponding lesson in Reading the next.
This was shorter, less intensive, more review-based, and was much more effective for us. (I love homeschooling flexibility!)
I've just barely touched on the immense amount of resources that are included, especially on the DVD-ROM and online. One such resource is a
webinar
done by Jill Pike, explaining how it all goes together and is supposed to work.
For even more information, straight from the horse's mouth (Andrew Pudewa and Jill Pike), watch this
video
, which will explain the concept of the Primary Arts of Reading / Writing.
This program is so full and so intensive that I'm not sure I could cover it all in three pages of writing! Please
click below
to see what my fellow Crew members thought of their experiences.
Disclaimer: As a member of the TOS Crew, I received this product, at no cost to me, in exchange for my honest review. All opinions are mine (and my kiddos!)