Grace and Truth Books is an online Christian bookstore that "is built on a different approach: what will glorify God, strengthen His people in their walk, and call all peoples to find joy in knowing His gospel and following Him." They are not concerned with "fancy packaging"--or with popularity when it comes to secular literature. They want simply to have God's message be heard.
Grace and Truth has hundreds of books on their website, for both children and adults, and they range from homeschool History curriculums, to sermon collections, to simple children's stories. For this review, we were sent two of those children's books from their
Heritage Series--Boys Books
to enjoy. This set of books (Heritage Series) contains nine stories, all from the 19th century and reprinted, which are listed for children from age eight to fourteen. We received
Gerrit and His Dog
(author unknown), which sells for $5.50, and
A Faithful Boy's Influence
, by "Aunt Friendly", which sells for $6.25. The whole series together sells for $39.00.
We received our books right on time, and they were very appealing to my kiddos when we were looking through them. We were smack-dab in the middle of a unit study on dogs, too, so I was doubly-thrilled with the chance to use Gerrit and His Dog as a family read-aloud. We immediately sat down and cracked it open to read.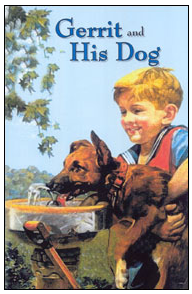 Gerrit and His Dog actually contains two different stories: Gerrit's story has 47 pages and then there is a story titled "The Royal Law", which has 32 pages. Both stories are written in easy-to-read language and type (except for some of the characters' names which we probably butchered beyond the author's recognition). Gerrit is a young boy who has been dealt a rough hand in life, and he has a dog whom he loves dearly. The story revolves around Gerrit's search for the dog after he is lost, and around the village's sympathy for Gerrit throughout the search. It works to teach lessons about compassion and loving your neighbor, and living out God's Word, and it is simple enough for children to understand. While my six year-old would not be able to read it on his own, my 9 year-old certainly would be able to read it easily, and could grasp the lesson.
However, I myself had a fundamental problem with this book, and found myself increasingly uncomfortable with continuing to read it aloud to my children. It probably stems from the early time period when it was written, and I'm probably a bit too sensitive. In my previous life, remember, I was an Early Intervention Specialist, working with babies and toddlers with disabilities, helping them to become all that God had in mind for them to be. I also have my own child with sensory difficulties, processing delays, and learning issues. Gerrit, the little boy in the book, also seems to have developmental difficulties that are never clearly spelled out; however, he is continually referred to as "feeble-minded Gerrit", or we are told that "Gerrit's mind did not function properly".
I know, I know, I am oversensitive. But there may be a few more of you all out there and I want you to be aware of that language before you choose to have your child read this independently. This book, in my opinion, would work much better as a read aloud, when the parent could edit as needed, or hold open discussions about Gerrit's troubles.

But, enough about Gerrit. The other book we received, A Faithful Boy's Influence, by "Aunt Friendly", was much more well-received. This paperback contains 148 pages, with the bulk of the book taken up by the story, and the remaining pages made up of "Ears for Little Gleaners", small devotionals for children instructing them in using friendly words, obedience, heavenly treasure, and the like.

A Faithful Boy's Influence is about Charlie Clement, a young man who is visiting his relatives in a new town for the span of a year. Charlie loves the Lord, and His Word, and tries to emulate Him as much as possible--even when it is not popular to do so. The story centers around Charlie's days, and how he affects his family and town through his understated determination to live his life the right way.

The writing style of this story is very obviously old-fashioned; however, the characters are likeable and relateable. Charlie is someone that you can't help but love and respect, and his story teaches a very valuable lesson. In our home lately, we've been working on how hard it is to change the status quo and stand up for what you believe in. Charlie's story is a wonderful example of someone who does this beautifully.

The TOS Crew reviewed many different products from Grace and Truth Books, and I encourage you to read their reviews to see what else this company has to offer. You can find the links to those reviews here:



Disclaimer: As a member of the TOS Crew, I received this product, at no cost to me, in exchange for my honest review. All opinions are mine (and my kiddos!)