I am always so excited when a product from
Apologia
comes up for review. We have used some of their science products in the past and really enjoyed them, and earlier this summer I was able to review "
Who is My Neighbor and Why Does He Need Me?
", a book from their worldview line.
This time around, we were able to review
Journeys of Faithfulness
, by Sarah Clarkson. Sarah is a wonderfully gifted young author who has written this devotional for "young women". The age range is suggested for ages 12 and older, so both Turtle (12) and myself (older than 12) read it, although separately.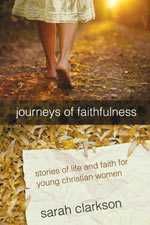 Journeys of Faithfulness is a 230-page soft cover book that deals with the stories of five women from the Bible: Mary and Martha, Mary, Mother of Jesus, Esther, and Ruth. Each women's stories are told through three chapters that cover a section of the woman's life, a devotional about the story, and a short Bible study designed to help the reader "dig deeper" into their own interpretation and practical application of the story. Located after the Bible study are a few pages set aside for the "journey journal"--note-taking space provided right in the book.
As I mentioned, both Turtle and I worked through this book separately, mostly due to some time constraints we are having lately with her in school this year. I really enjoyed knowing that she was reading this every day at school during "Reading Time" before lunch. She has always treasured the story of Ruth in the Bible, so she started there, although it is the last set of chapters in the book.
Turtle was not a huge fan of the book. She liked the way the stories were written, but she said that "it just didn't catch my attention". I don't know what she's talking about! Although, to be honest, she tends to have ADD when it comes to new books. If they don't grab her in the first two and a half seconds, she doesn't give them much more of a chance. I think, no, rather, I
know
, that we will be using this book again with her, although I think I will wait until she is a bit more mature this summer, and we can go through it together. Using this book as a mother-daughter study is something that I am really looking forward to.
I thought the book was wonderful! Sarah is an extremely talented, engaging writer, and seemed to me to speak right to young women. She does take a bit of liberty in attributing thoughts to these Biblical women, but I think that is what spoke to me the most about the characters. For example, I have heard the story of Mary and Martha over and over again. This time was the first time that I really, truly related to it. The love that Mary has for Jesus from her first meeting with him spoke to me and had me wanting the same relationship with Him that she did.
Which is the point, right?
I would highly recommend this book for other "young women"--like me, lol! In my opinion, BOTH mothers and their teenage daughters would benefit from it; especially if they used it together. I can picture Turtle and myself taking a weekly quiet time together away from the chaos of home to work through the stories, and this book would be a wonderful tool to use to help us both grow closer to Jesus.
If you want to get a good picture of the way the book is laid out, you can look at this
sample chapter
.
The book is available from the Apologia website for $13.00, and, although I received it at no charge, I would quickly spend the $13.00 for it. It is beautifully written, important, and will have a place on our bookshelves for a long, long time!
If you want to see what other Crew Members thought of their copy of Journeys of Faithfulness, you can go
here
...

Disclaimer: As a member of the TOS Crew, I received this product, at no cost to me, in exchange for my honest review. All opinions are mine (and my kiddos!)