Our homeschool is a very interesting place to be sometimes--that is, if you're the teacher! I have one kiddo who is an extremely hands-on, kinesthetic learner who has very low computer skills. My other one is extremely computer-proficient and really often prefers that method of learning over any other.
Oh, yeah, and my nine year-old is the computer-ignorant one.
So, I am looking for opportunities to try new computer-based learning programs with BOTH of my homeschooled kiddos: for Firefly, it will challenge her to use a different method of learning, and help her become more computer-literate, which I think is a tremendously important skill for kids growing up today. For Bug, it will just continue to keep him engaged in a way where he doesn't know he's learning because he is having so much fun.

These were my reasons for signing up to review
Samson's Classroom
. Samson's Classroom is touted as "an online series that helps students become better readers" (from their website). Essentially, this website focuses on sight words, spelling, and reading comprehension.

Sight Words with Samson takes the child through 224 of the most commonly used words in our English language. Children are first introduced to the words and their spelling visually, then they are asked to build the words with verbal prompts. Next, they are asked to identify the word out of a group of words, and finally, they are given a quiz and a challenge game on all of the words in the list (usually about eight), and then they progress to the next level.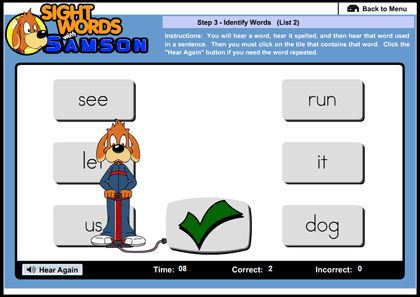 Spelling with Samson offers another set of three learning games, where the child can use a spelling list that the teacher creates, or a list already put together based on grade level, categories, or word families. Students progress from choosing letter combinations to complete their spelling words to complete mastery of typing their spelling words into the computer in order to achieve a perfect score in this section.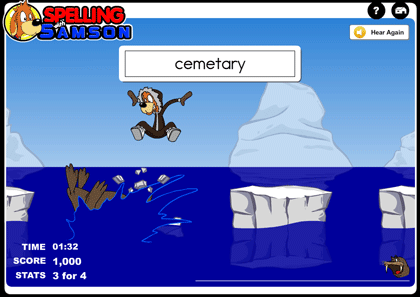 Reading with Samson offers different reading passages for students to read through and answer questions about. There are four different levels of passages that students can progress through. If a student answers a question wrong, the section of the reading passage that contains the answer to the question will light up, so that the student can easily find the answer they need when they re-read the highlighted section.
Answering questions correctly wins the student "Hammer Time Swings", which they can use to measure their strength in a little carnival-type game.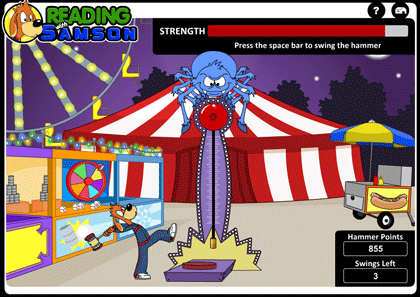 Samson's Classroom also offers a Resource Center, where, among other things, teachers can get printable awards / certificates for students as they complete levels, lesson plans and printables to help teach sight words and other reading skills, and worksheets to help cement these concepts.
There is also a nifty little section of the website called My Page. Here, the teacher / parent can get a good look at what the students have been up to in their online time. For example, on my page for my family, I can see how many games were played, how many "perfect scores" were earned by both of my students, and their individual scores for each game / section they played. This was a very eye-opening and interesting feature for me.
We used Samson's Classroom in our homeschool as an additional learning tool. For Firefly, it was a regular part of her computer time every day. Her favorite section was Reading with Samson. She enjoyed reading the passages, but not so much answering the questions. As I checked in on My Page, it was clear why she didn't enjoy this--she was doing miserably with it! Many of her passages were not completed, and those that were showed her having a horrible time answering the questions correctly.
Reading Comprehension is going on our goal list, lol!
Bug seemed to only tolerate Samson's Classroom, but I think that may be because he is still on the early end of the age range and he is a beginning reader. He spent most of his time in Sight Words with Samson, and worked to master most of the levels in this program. When we tried the Spelling and Reading parts of the program, he was pretty easily frustrated and lost interest quickly.
When I explored Samson's Classroom on my own, I was most impressed with the Reading section. To me, the Sight Word teaching was very monotonous, but then again, repetition is what helps in most learning. The Treasure Chest Challenge game was one that Bug particularly enjoyed, and it was easy to operate and pretty cute.
Spelling with Samson could be a great tool, especially when you can put your own lists in it for your child. However, the games that are in this section were pretty frustrating to me as an adult. The "Missing Letters" game was easy to use and fun, but the "Spelling Scramble" was incredibly hard to navigate and seemed to be impossible to truly win. "Crunch Time" counts on the child being a quick typist, and I was frustrated when my (intentional, mind you!) misspellings landed Samson into the water where he became a block of ice.
Reading with Samson was a great section for kiddos to practice that reading comprehension which evidently we don't do so well on, ha! It's not as "gamey" a section, but it does offer a good deal of practice, at many different reading levels.
I will definitely continue to use Samson's Classroom with Firefly, but mostly to work on reading. Although Samson's Classroom is touted for grades K-5, I think I will have Bug get older before I try it again with him.
Samson's Classroom offers a pretty detailed
video introduction
, as well as a chance to try
demo versions
of their games. There are many different pricing options; we received the Family Version, which costs $50 for a full year and includes up to four users.
If you are interested in learning what my other Crew Mates thought about the program, go to the
Crew Blog Post.
Disclaimer: As a member of the TOS Crew, I received this product, at no cost to me, in exchange for my honest review. All opinions are mine (and my kiddos!)