I am really, really getting good at following a set curriculum. I love the curriculum that comes all together, especially with curriculum that tells me what to say and when to say it.
Unfortunately, I am becoming very aware that I have children who aren't exactly thrilled with that kind of curriculum.
As a result, I am continually looking for different fun activities that combine my love of planning and my kiddos' love of fun, hands-on, spontaneous learning.
Enter
Activity Bags
! Their website touts their product as "where fun and education fit in the same bag". Perfect combination!
I received two different sets of Activity Bags: Math Games in a Bag, and Travel Activities in a Bag, and have been very impressed with both of them.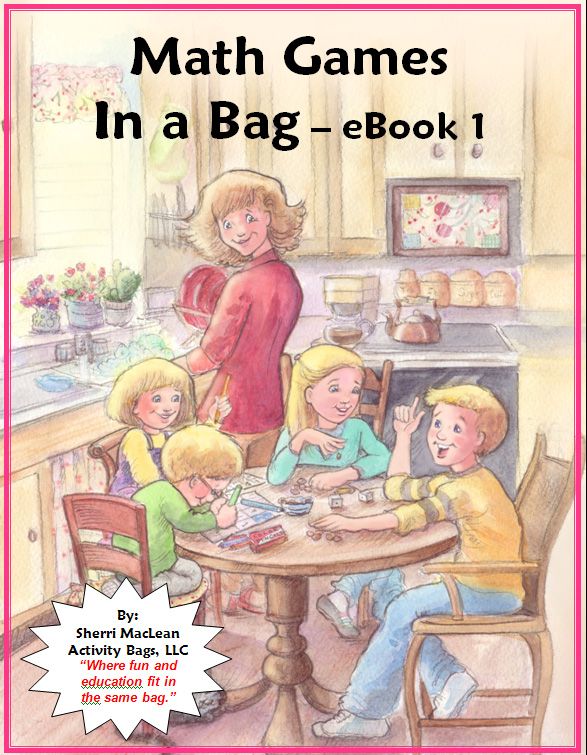 Math Games in a Bag
($15.00) comes in e-book form, and contains 33 different math games designed for elementary-aged children. Each game comes with assembly instructions (for one bag up to 20 bags--useful if you want to participate in a bag swap, which the website also has suggestions on), a list of supplies needed, an example of a correct label for the bag, the black line masters needed for the game, instructions, and labels. The games were created to be inexpensive--most bags can be made for less than $1 / bag, and many use items commonly found around the house.
When I received the download, I immediately went through it and printed out the games that would be most appropriate for my children (K and 4th grade). It took me less than two hours to completely make fifteen of the games, and I had all of the materials on hand that I needed.
My kiddos were thrilled to sit down and rummage through the games the next morning--and when has math EVER been that exciting at my house? Yep, like never!
We got to play math games for a good forty-five minutes that morning, and the bags are still a huge hit a month later. Bug quickly found his favorite: Bead Bingo, which is a variation on Bingo that uses addition and subtraction facts. Firefly prefers Menu Math, which uses real take-out menus to practice real-life math problems.
The other e-book we received,
Travel Activities
, ($15.00) is another winner in our home! It contains instructions and copies for over forty simple but fun games that you can compile into a binder and throw into the car. There are activities for all levels, some for kids to play individually and some for them to play together. From the games that I put together, all we needed to have to play the games, except for the outside view, was a dry erase marker and eraser. Examples of the activities included are: mazes, connect-the-dots, ad lib games, Bingo games, and fun drawing activities.
Although we are a family that takes many long trips away in a year (say, like for a soccer tournament, haha!), we are also a family that does a great deal of everyday driving--co-ops, doctor's appointments, and even Parent Pick-Up line all involve a decent amount of time for my little guys to be sitting in the car, and that is very much an activity that Firefly does not like. At all!
Their new travel binders have really helped with that. I didn't print all of the activities out at once, figuring on the let-them-get-used-to-this-and-then-I'll-switch-the-games-out novelty of the idea. So far, I haven't had to switch the games out yet, but the binders are just as popular as ever!
I do get slightly nervous having all of those dry erase markers in my car, but so far, so good!
All in all, I have been extremely happy with Activity Bags. They are inexpensive to create, EASY to put together, and fun for my kiddos to use. I'm not sure there's more that I would need out of a product!
There are several differently-themed Activity Bags available. Check out
this post
to see which products my Crew Mates reviewed and what they thought.
Also, if you want to take a few minutes and fill out a quick
survey
, you can get a FREE e-book sampler!
Disclaimer: As a member of the TOS Crew, I received these products, at no cost to me, in exchange for my honest review. All opinions are mine, and my kiddos!