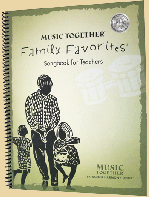 "
Music Together is a music and movement approach to early childhood music development for infant, toddler, preschool, and kindergarten children and their parents, teachers, and other primary caregivers...Music Together recognizes that all children are musical and that every child needs a stimulating, supportive music environment to achieve basic competence in the wonderful human capacity for music-making." (from the Music Together website.)
I am not, by any stretch of the imagination, a musical person. Sure, my mother forced piano lessons on me for years and I can read music. I enjoy listening to different styles of music when I work out. I was in the chorus in middle school (much to the director's chagrin, I'm sure!)
But in terms of offering my children a musical smorgasbord of composers, instruments, vocal lessons and the rest, it just was not happening! Mostly because I felt like I didn't know WHAT I was doing! On a soccer field, maybe. In front of sheet music, not a chance!
Then I had the opportunity to review Music Together's
Family Favorites.
And truthfully, I almost clicked on the little box that asks if we want to take a pass. I really didn't think that it was going to be something that we couldn't live without. We listened to
samples
of some of the songs over breakfast, while we were trying to decide.
There were giggles. There was laughter. Both of my younger ones were out of their chairs and spinning around the kitchen floor.
There were a few messes, but that's beside the point.
I clicked the box that said "pick me, pick me!"
When the package came in the mail, we had received the
Music Together Family Favorites CD
and the Music Together Family Favorites Songbook for Teachers. I immediately popped in the CD and the giggles and laughter and dancing began again.
I do have to say, too--the songs are pretty catchy. A little too catchy, if you know what I mean. (Or am I the only one who catches themselves humming children's songs after said children are in bed for the night?) There are nineteen tracks on the CD, and they are singable, fun, and easy for kids to catch on to.
Even my oldest, who is twelve, after rolling her eyes at the first playing, has been caught singing along a time or two.
*wink*
Honestly, though, the thing that elevates the Music Together collection above other "fun kid's songs" is the Teacher's Songbook. What a wealth of information and helpful hints this is!
The spiral-bound book starts with a "How to Use This Book" section, and lists what you'll find when you explore it. At first, there is information about the
Music Together philosophy
, types of songs and activities, and how to work with instruments. Then, each song is listed individually with a background on how the song came to be, sheet music, and lists of activities and ideas to utilize each song with different ages of children, from infants to older children, AND (my favorite part) children with special needs!
And by special needs, the authors don't just mean "children with special needs" as a blanket term. For example, the song "Ridin' in the Car" lists adaptations and activities for children needing social skills help, children in need of physical work, children with sensory processing problems, children with communication difficulties, and children having trouble with speech. (You see, in special needs world, speech and communication are two different things.)
Even for kiddos without special needs, there are a ton of activities for each song. "Ridin' in the Car" also includes how to use the song with variations of things you can do in the car, working on harmonies, vocal play, a picture in the songbook, activities for infants and their parents, transitioning with preschoolers, and talking about different types of transportation.
All that for a two-minute song!
The end of the songbook discusses the whole Music Together program, which also includes classroom experiences in preschool settings and family classes.
We have had a blast using this program in our homeschool. Although the website lists the most appropriately-aged children at birth - seven years, both my Bug (5) and my Firefly (9) have really enjoyed everything about it!
Right now, the CD lives in my car. After all, we spend many hours of our week there, and it has really helped us have fun in those hours!
The Songbook, though, lives in our schoolroom, and we pick two to three songs to do everyday after lunch. We sing them, I try to pick them out on our really, really old keyboard, and I jump right to the Sensory Activities suggested for each song. There is a lot of stomping, rolling, dancing, laughing, and drumming happening in our house lately!
All told, this is a wonderful program, and I'm so happy I clicked the "yes, please" box! It will be a regular part of our school day for some time to come.
Right now, you are able to order the award-winning
Family Favorites Songbook and CD combo
for $39.95, which is a $5 savings from the Songbook and CD separately. If you order the combo, AND enter the coupon code "Schoolhouse" at check-out, you can save an additional $2!
If you'd like to hear other's opinions on Music Together, you can find out what my Crewmates thought
here.
Disclaimer: As a member of the TOS Crew, I received this product, at no cost to me, in exchange for my honest review. All opinions are mine (and my kiddos!)