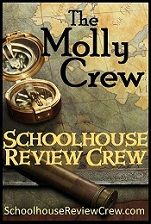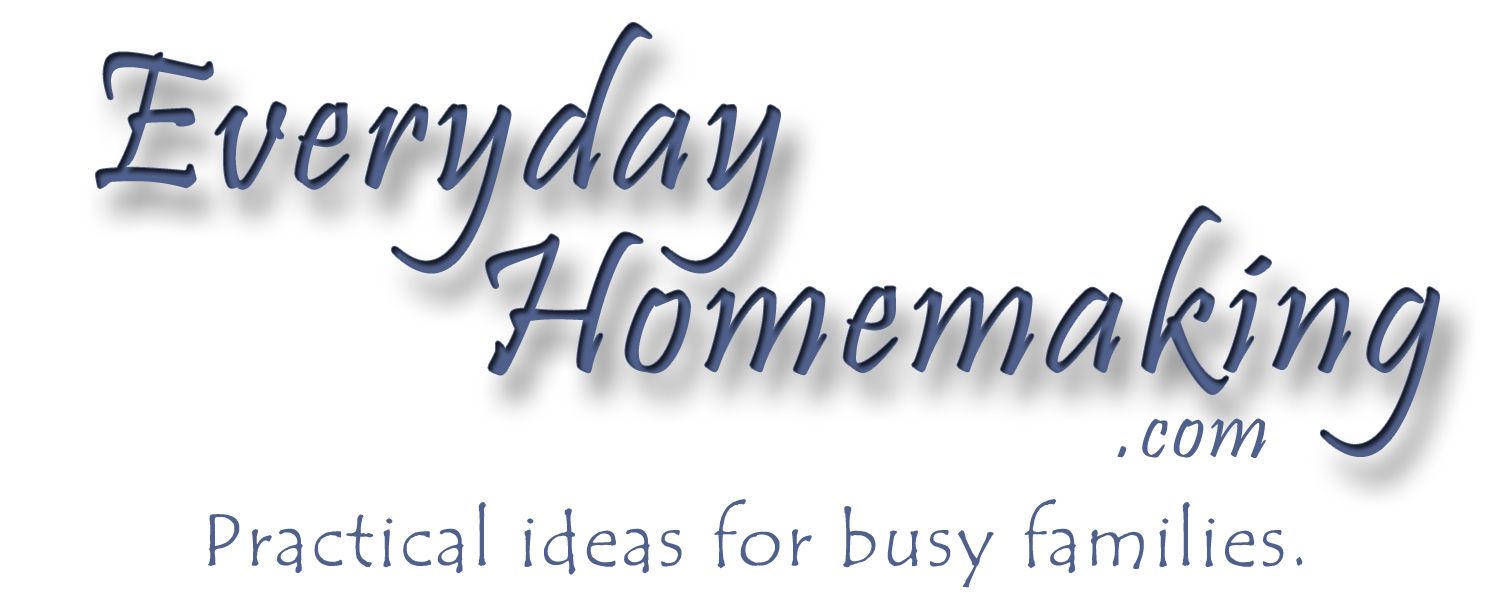 Everyday Homemaking
is a company offering resources "jam-packed with practical ideas and tools to help you better manage your household and time."
Sound interesting?
Umm, yeah. Like take-me-there-now kind of interesting!
I can always, always, always use resources that promise better household management (and don't forget my obsession with "organization" and "scheduling"!) Seemed that these products might be right up my alley...
So, enter
The Everyday Family Chore System
, by Vicki Bentley. Vicki is a mom to eight kiddos that she has homeschooled, and over fifty foster children. I would guess that she has a pretty efficient system!
This book was sooooo eagerly awaited that I was obsessively checking my email, I am ashamed to admit...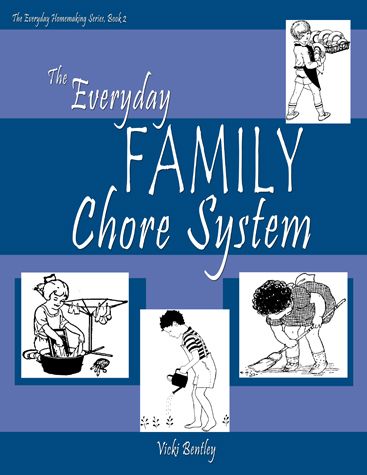 I received it in an ebook format, which was perfect for my iPad and iBooks app. It was a quick and easy read (only 88 pages), and left me super-enthusiastic to get started on our own chore system.
But let me back up here.
To this point, we have had a kind-of system. Each morning, my kiddos were responsible for certain morning chores, and each afternoon I had one area of the house that we were going to work together to clean up.
Except, many times these kiddos were fighting over whose turn it was to do what, continually asking "how do I do that again?", and just generally dragging their feet and digging in their heels and trying to get out of the whole thing.
Seems like Vicki's heard this before. As a matter of fact, the first part of this book (after "Introduction: Who is this woman and why is she telling me this?") was "Laying a Foundation". This section includes practical ideas on child training, including: having realistic and age-appropriate expectations, establishing rules and standards, having a working knowledge of family discipline, and tying strings to their hearts.
Part Two of the book involves Implementing the Plan, complete with a "Life Skills Checklist", showing some of those age-appropriate expectations you could have of your children. This section goes into step-by-step instructions of how to put Vicki's plan in motion.
I love step-by-step instructions!
Not only does Vicki walk you through implementation of her plan, she offers ideas for motivating children, and great practical ways to teach them HOW to work.
And, then, in Part Three, you get everything you need to use the "Actual Chore System"! Three pages of job cards already printed, as well as some pages full of clear labels for you to customize your own jobs to fit your family.
After the job labels, we get to the best part! Vicki includes How-To-Do-It-Cards.
These are magic!
Each of these cards describes, step-by-step (noticing a pattern here yet, folks?), everything that a specific chore entails.
Everything!
The setting the table card, for example, even has pictures of how a table setting looks when it is done correctly, along with the words that tell the child how to set it. There are cards for tidy the bathroom, load dishwasher, mop floors, and so many other jobs, AND empty cards for you to customize for your own family!
This was perfect for my Turtle, who likes to do "just enough to get by" when it comes to chores. The chore is completed when what is listed on the card is done.
This was perfect for my Firefly, who gets so easily overwhelmed by being told something like "clean up your room". She could read what to do, one thing at a time, and know how much more she had to do until she was done.
This was perfect for my Bug, who is still learning household chores and how to do them. When I was teaching him, I could refer to the card and make sure I was giving him all of the right steps.
The How-To-Do-It-Cards are, in my opinion, what take this chore system and catapult it right up to the top of our list.
I've added some pictures of what our chore system looks like now. I've taken our job labels and assigned them to each kiddo. On the right side of the chore chart are the everyday morning chores. Turtle's are in the top section, Firefly's in the middle, and Bug's on the bottom. Each Sunday, some of the chores rotate. When each child has done their chore, they turn it upside down, so they can see that it's been done.
On the left side of the chart are the weekly chores. At this point, I am letting them each pick which chore they are going to do on which day. I'm still deciding if that's a good idea or not, but there seems to be a lot less grumbling that way (especially at the beginning of the week, when there is a bit more variety to choose from...) Each month, the weekly chores rotate as well.
We have used this system for a little over a month now, and it is working very well in our home. I would highly encourage you to check it out and give it a try in your own family.
But don't just take my word for it: check out what some of my
Crewmates
thought of the same product.
Disclaimer: As a member of the TOS Crew, I received this product, at no cost to me, in exchange for my honest review. All opinions are mine (and my kiddos!)