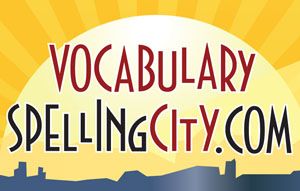 Their mission is, "efficient game-based study of literacy skills using any word list". I would have to say they serve that mission very well!
I had used this program in the past in its free membership form and we had loved it. Basically, the way we were using it was that I was inputting my girls' spelling lists and they were spending a few days playing games with their words, after taking a pre-test of them on Mondays. Then, on Fridays, we would log back in and have them take the test.
I was impressed with the program then, and we were evidently only using a fraction of the things we could have used!

The Free Membership offers a spelling test, spelling "teach me" lessons, three vocabulary games, two writing practice sections (spelling and paragraph writing), five spelling games, including word searches and missing letter games, practice with alphabetizing and handwriting. All of these work off of the initial list that you can enter and save, or off of other lists that you have access to on the site.
There are also videos to help you use any feature the site has to offer! They are super-easy to use and understand, and a big help as you are navigating all of the tools.
I really appreciated the auditory piece of the site as well. When my girls were taking their spelling tests, their words were pronounced for them and then used in sentences. Turns out, you can also edit the sentences to make them more fun for your kids! Firefly loved hearing about how she wanted to be a scientist, or about how her brother jumped a hurdle.
The Premium Membership ($29.99 / year for a family membership for up to five students) includes all of the features I've already mentioned, as well as vocabulary and grammar games and tests, recording of scores on tests, both interactive and printable flashcards, and a place to include assignments. Students also receive their own log in, so each can locate their own saved lists for practice.

This time around, I've watched the videos, gotten more familiar with everything that is offered, and really started to have fun with this. So far, Firefly is learning all kinds of reading and science vocabulary words, and NOT fighting about practicing her spelling.
Bug isn't quite ready for using it yet, but he loves to watch his sister play "HangMouse", or offer suggestions for "Speedy Speller" (which she doesn't so much appreciate, but such is life...)
This is an amazing tool, especially for our much-more-computer-savvy-than-me kiddos of these days. Anything that makes learning more fun earns two stars up from us, and this is definitely an easy-to-use website that kids will enjoy.
Don't take just my word for it, though. Check out what my Crew Mates thought of this program. Click
below
...