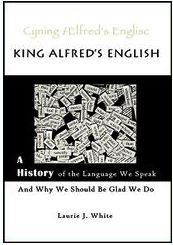 I'm going to start with being very honest with you. (Actually, I'm always honest with you--just looking for a good preface for this review, hee hee!)
I was not knocking down the doors to be selected for this review.
I mean, a book about the beginnings and origins of our English language?
Yeah, not really my thing.
And then I WAS picked, and I received the Kindle version of the book, and then I started to read it.
Yeah, kind of really my thing!
See, I have recently discovered my inner history nerd, and this book is a really well-written and even *fun* way to get some of this history into our kiddos!
Laurie White, the author, is not only a writer, she is a former middle and high school teacher and a homeschooling Mama, with three grown kiddos herself. She obviously has a passion for her subject, and has a very engaging writing style.
From her website, here is an introduction to the purpose of the book:
"Do you remember the first time you looked under the hood of a car or popped off the back of an electric toy to see the inner workings? Well, most of us go through our entire life speaking a highly complex and organized set of sounds we call language without ever getting a glimpse under its hood. So come have a look at some of the hidden springs and gears that have steered and energized English over the centuries. King Alfred's English provides a guided tour of forces and events, conquerors and writers that have shaped, simplified, matured and expanded English into what it is today—the first truly global language in history."
The book covers the timespan of 55 BC - present day, as English progresses from "Pre-English Britain" to "English Invading the World". It works through many different empires invading the British Isles, and many different historical figures and their impact on the language. Also, there is a good deal of information about language as evidence for God's design vs. evolution.
Laurie has a humorous and engaging writing style, as evidenced by her chapter titles: When Togas and Latin Came to Britannia, Well, We're Through with the Romans, So Who's Next?, A Little About Language, The Invasion of the Church and of Latin, The Invasion of the Vikings and Old Norse, The Invasion of the Normans and Old French, The Making of Middle English, And the Word Became...Print!, The Invasion of Greek, "Sola Fide"--A Battle Cry for Faith, English Contraband: Fulfilling Wycliffe's Dream, Of Kings and Wives and Martyrs, The Bible that was Named for a King, Shakespeare, and If Only King Alfred Could See Us Now!
You can check out the subtitles for the chapters
here
.
King Alfred's English is actually a "curriculum" book, geared for ages 12 - Adult. And as such, there is a great deal of teaching material found on Laurie's website,
The Shorter Word
. There, you'll find Student Pages, including online articles, videos, and images to extend the learning in each chapter. The website also contains Teacher Materials: worksheets and tests for each chapter, including the Answer Keys!! All of this supplemental material is available to you for free!!
In our homeschool, my kiddos are a bit young for this book, although I enjoyed it a great deal. I know that if Turtle comes back home at some point, I will use the supplemental materials online and extend this into a semester course for her. She enjoys Language Arts, and, I think, would get a great deal out of this book. I would definitely recommend it as a middle or high school level course.
Preview the first chapter
here
.
King Alfred's English is available at
Christian Book Depository
for $14.89. You can also order it on
Amazon
, or get the Kindle version. And for the first four people who comment on this post, I will email a discount code to you to get the paperback version for wholesale!
And check out what my Crew-mates thought of this book: click
here!