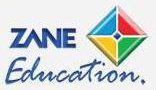 I had never heard of Zane Education. When it came up for review, I started researching, and I was intrigued with what I read. And even more intrigued when I saw how much they offered!


Essentially, Zane Education provides online video learning, subsidized with lesson plans, quizzes, and loads of other resources. And they have what they call "The Missing Piece".
From their website, "Unlike all other education video providers, Zane Education has purposely provided dedicated subtitles on each of their videos. Research over the last 30 years has firmly established the link between the use of subtitles on video has the ability to significantly improve reading and literacy skills. As a result Zane Education currently offers the ONLY online learning service to enable each child to study and learn each curriculum topic AND improve their reading and literacy skills - AT THE SAME TIME. And this is The Missing Piece© that you will read about on this website."
Zane's "Missing Piece" is the use of subtitles throughout their videos, allowing children to hear the lesson, as well as read it. In some of the User Guides, Zane recommends having the children watch the video the first time with sound, the second time without sound and simply reading the subtitles, and a third time by having the child provide the lesson while the video plays. Their use of subtitles has the ability to increase children's reading and literacy skills.
And the videos: there are hundreds. Literally. They cover from Kindergarten to Adult levels, in subjects like: art, biology, geography, health, history, library skills, literature, music, religious studies, science, and social science.
Most videos run approximately fifteen minutes, although they range from about five minutes to slightly over twenty minutes.

Zane also offers additional things to go alongside their videos: learning objectives for each video lesson, a video glossary, encyclopedia, dictionary, thesaurus, and a World Fact Book.
The Lesson Plans include review questions with answers, vocabulary, discussion and debate points, activities to extend the lesson, research projects, and essays to write.
Also on the website are User Guides for all different kinds of learning situations, from ADHD learners to gifted learners to Christian Homeschool Learners.
Although we received a Gold Level Membership, we spent most of our time in the Geography and Science videos targeted at Grades K-6. Both my 4th grader and my Kindergartener enjoyed watching the videos. They always love when we can add "screen time" to "learning time"! We were able to use the videos as stepping-off points or review points on things that we were actively studying about at home. The videos that we watched were more along the lines of slide shows, with the subtitles at the bottom of the screen--not animated, cartoonish videos.
I even snuck in some Mommy learning in some of the older History videos--pretty neat stuff, although I am finding myself lately becoming a history buff, so maybe I'm biased!
I took advantage of the quiz feature with my Firefly.
From what I could tell with our use of it, the quizzes are set up to go along with entire sections of the lessons. For example, my daughter took the Animals Quiz after watching the video on birds. However, the quiz covered birds, insects, fish, and mammals. The quizzes are about twenty multiple choice questions, and either the child needs to be able to read the questions and answers themselves, or the parent needs to be there to read for them.
Price guidelines for Zane Education's subscriptions are as follows:
There is a Free Membership, which gives you access to all Math videos (through Khan Academy), lesson plans, and math quizzes.
Bronze Level, which gives you access to all videos in one subject, costs $8.99 / month or $98.89 for one year.
Silver Level memberships give you access to all videos within one grade level. This costs $12.99 / month, or $142.89 for one year.
Gold Level memberships give you access to all videos in all grade levels in all subjects. This sells for $17.99 / month or $197.89 for one year.
There is also a Topic Taster, which gives you access to one topic only, for one month only, for only $5. This would be great to get an introduction to Zane, and see if it is a good fit for your family. I would highly recommend this, as you can see a sampling of what the videos are like.
From now until the end of August 2012, use promo code ZE395HSM for 35% off any membership.
Just a word of caution.
Some of the videos are evolution-based. It may be that you want to preview them on your own before they are used for teaching.
There were a few times when the videos were very slow to load. However, we would just step away from the computer and work on something else for a while, and then try again. No more problems!
I plan to use these throughout our year, and especially look forward to using them in our Art and Music studies. I think they would make a great supplement for us.
For more information, and to see what my Crewmates thought of Zane Education, click here.
Disclaimer: As a member of the TOS Crew, I received this product, at no cost to me, in exchange for my honest review. All opinions are mine (and my kiddos!)