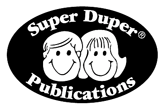 Super Duper Publications is a really neat company that offers many different tools to use with children, most geared toward children with some sort of special learning need. Many of their best sellers are computer games, board games, flashcards, or stories covering skills such as: sequencing, phonological awareness, following directions, social skills, sign language, identifying feelings, and asking "wh" questions.
I know that to most of you, those words I just wrote are not much more than jibberish.
For those of us living in special needs world, though, they make a little too much sense.
From their website: "Super Duper® Publications publishes materials for speech-language pathologists (SLPs), special educators (SEs), general education school teachers, occupational therapists (OTs) and parents to help children improve many important skills such as listening, paying attention, communicating, reading, and social interaction.
"
I guess that's a little clearer.
My daughter has Sensory Processing Disorder, and we have spent many years (and many dollars, but that's another story...) in different therapy / psychology / doctor offices. Speech, Physical, and Occupational Therapy were all part of the repertoire at one time, although she has since graduated from Speech Therapy and PT. When I look around the Super Duper Publications website, I can find lots and lots of items that we have used or could use to make things run more smoothly around here. There are also freebies offered, including the "Handy Handouts"--informational papers on all types of disabilities such as Autism, Sensory Processing, and different speech delays (in both English and Spanish, too!)
So when we were asked to review one of Super Duper's games, I jumped at the chance! Especially when I saw that one of the choices was called "Webber Hear Builder Following Directions". We REALLY need the practice with that in our house! The "I'm-talking-to-a-brick-wall" syndrome is in full-force here, and as soon as I multi-step ANY directions with my daughter, I've lost her. According to the packet that comes with the program, it "is designed as a systematic, intense, challenging, and fun theory-based therapy tool."
We received the CD-ROM game ($69.95 for the home edition), which worked beautifully on our Mac, and loaded without any problems. It was quick and easy to start an account both for my daughter and for my 5 year-old son. Because, after all, what 5 year-old boy doesn't need a little practice in paying attention and following directions? For the Home Edition, which I received, you can add up to four different children's accounts, and you can select Beginner, Advanced, or Expert for each child. You can also select "Play All", which will start the child at the beginning and advance them as they work through the game, which is what I did. The game is listed to be recommended for Grades PreK - Third, or ages 4-9. My son is a soon-to-be Kindergartner, and my daughter is going into Fourth Grade. I feel that both of them fell well within the limits of the game.
There are five different games-within-the-game, each targeting different direction skills, and each game has both beginner and advanced levels. The "Tool Room", where children can gain toy-making tools by answering the questions correctly, tests basic directions. These range from "click on the dog" to "click on the large blue dog that is spinning below the boat". The next game is the "Toy Machine", where children can make a toy by following sequential directions. These activities range from "set the size to large and press start" to "first, set the size to small. Second, set the temperature to hot. Third, set the shape to square. Then, set the color to blue, and press start." Whew!



In the "Toy Inspection" room, the child must follow quantitative and spatial directions, such as "choose two dollhouses" and "choose the third small red plane". The "Toy Packing" room works on temporal directions, like "put a train in the box before you put a duck in the box', all the way to "before you put the blue Frisbee in the box, put the red duck in the box". And, finally, in the "Toy Shipping" game, children follow conditional directions. Here the instructions range from "if a doll is in the box, put the box on the truck" to "if a green doll is in the box, put the box on the large truck; if not, put the box on the small truck." For these three games, after the child completes a level, they are able to play a fun mini-game or complete a puzzle as a motivator to continue.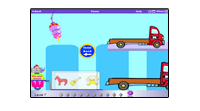 Following Directions also can provide a Progress Report for each child that includes the date they played the game, which sections they played, and which level they completed with how many errors. I found this very interesting as I printed it off for each of my kiddos. Both of them very quickly completed the basic directions levels, but both also slowed wayyyyyy down when they got to the more complex direction-following. And my daughter obviously had a much harder time when faced with the conditional directions--she has only completed Level 3, with three errors out of twenty trials, while my son (four years younger) has zipped through past Level 8, with no errors. Just another interesting thing to pull out for her OT visit tomorrow...
Both of my kiddos loved playing this game, although I do have to say that the enthusiasm did drop down a bit after they had mastered the "easy" parts. The graphics are bright and colorful, the story of the game was engaging, and the background was not distracting. They were able to navigate through all of the games independently and easily. Even when only the 'hard parts" were left, I did not have to do much begging, bribing, cajoling, etc in order for them to want to sit down and play some more.
I loved having access to the Progress Report! It is much easier for me to sit down and analyze it when the house is quiet after all the kiddos have gone to bed, than to try to watch them every step of the way and remember which they did well with and which was tougher for them.
Did it improve their direction-following ability? I think it's too soon to tell. I definitely think it helped me realize where my daughter's strengths and weaknesses lie in this area, and it will help me to focus on those weaker areas throughout the day (and hopefully, not get so frustrated with her when we run into those rough spots...) I can see the value in continuing to use this program to it's completion, and we will.
All in all, I think this is a wonderful program, and a great addition to our therapy tools! I encourage you to check out the Hear Builders programs and the Super Duper Publications website. (By the way, they are offering 30% off through August 31! Just type in the code BLGFD30!)
For a look at some of the other products put to the review test, click here.
Disclaimer: "As a member of the TOS Crew, I received this product, at no cost to me, in exchange for my honest review. All opinions are mine (and my kiddos!)"