Let me start by saying that we have been incredibly blessed this summer so far. We do live in Florida, and we usually roast from about mid-May until oh, October or so. This year, though, we had a relatively mild (heat-wise) May and June.
Of course, we did have a few tropical storms to thank for that.
*wink*
We also have not been in that poor band of the East Coast that had triple digit temps and no air conditioning last week for days and days.
So we've been terribly lucky. I have not had to pull out the heat busters until only this past week. But make no mistake--I do have several heat busters up my sleeve. We live in Florida, remember?
Without further ado, here is our top ten-ish list of Summer Heat Busters:
1. The Pool. With our move earlier this year, we now have a community pool in our neighborhood, only a golf cart ride away (Finally, another use for the
golf cart
, haha!).
Our first thought when we started to build was to put a pool in our own yard. Yep, it was a fun thought for a little while.
Until reality set in.
And then I was even sad about not having the pool.
But guess what? We don't have to clean / check chemicals / buy chemicals, etc. for the community pool. Sometimes there are even other kids there who entertain mine. And, on special days, we even order food and they bring it right to us! I'm thinking that might actually be better than having our own pool...
2. The lake.
3. Sprinklers.
4. Water gun fights in the backyard. Especially fun when it includes ambushing Daddy when he gets home from work, ha!
(and, no, this is not the backyard pool that we had originally discussed, either!)
5. Washing Mom's van. And the dog. And each other.
6. Popsicles. Always a winner!
7. Water-trampoline. Not really very safe, but then again, neither is heatstroke.
And then, when we have reached our I-am-completely-waterlogged-and-all-the-bathing-suits-are-dirty-mode, we head inside:
8. $1 Movies. Every Thursday morning at our local theater. Or free ones, every Friday morning at the library. Or both, depending on what kind of week it's been, lol.
9. Taking advantage of my kiddos super-early wake ups and heading to the park at about 8:30 in the morning. We can have a good hour or so of running around before we roast. Then we head directly to the pool, again.
11. Chuck E. Cheese. Mind you, this falls under the "well, at least it's air conditioned" category, and I only go when we can get there first thing in the morning, but again, it's better than heatstroke. A little.
Summer in Florida is what makes me seriously consider homeschooling year round. As a matter of fact, every June I seriously consider it. And every June I discard it and head to the pool again. And again. And again.
Maybe next year.
Now, where is that bathing suit again?

This is linked to the TOS Crew's Summer Blog Cruise. See what my other crewmates are doing to Beat the Summer Heat: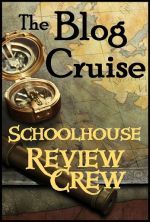 - Posted using BlogPress from my iPad