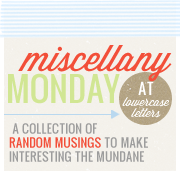 one. i consider it a successful saturday if i manage to get all three kiddos to the correct soccer fields at the correct time in the correct uniforms. we managed it this weekend beautifully. yay me!
two. i got a great deal at the grocery store yesterday on bbq pulled chicken. we are having bbq sandwiches tonight. yum.
three. we started community bible study last week. i am amazed at how much i don't know about the bible, especially having been brought up in catholic schools.
four. we are trying to work out the logistics of heading to tallahassee this weekend to watch our beloved seminoles play. it was so much easier to work out when we didn't have soccer games, sleepovers, and babysitters to juggle. hope we make it.
five. we got a new computer last friday. i think i might be in love with it. maybe i will be for sure when i can figure out how to work it ; )
hope you all are having a great monday!