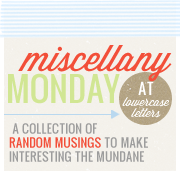 one. i started "date day" with my kiddos this month. each one gets one day a month that they get to spend some extra, "out-of-the-house" time just with mommy. (some days that's probably more of a treat than others, but you know how it goes . . .) the day they go is their birthday day each month. today bug and i are going to see cars 2. wish us luck!
two. i got a new bag when i hosted a thirty-one party. i love my new bag. i really, really, really love it!
three. two and a half hours goes by really fast when i am home by myself. this week the girls are at an all day camp and bug is at vacation bible school. joy of joys. i am getting a taste of "what would have been" if i had chosen to chase down the big yellow bus and put them on it (which has been threatened a time or two). i miss them (a little teeny-tiny bit), but have discovered how fast time really can fly.
four. i think my plans for my alone time this week are too ambitious. today i had really big plans and then the power went out. bye-bye ambition. hello frustration.
five. impromptu ice cream parties are amazing!